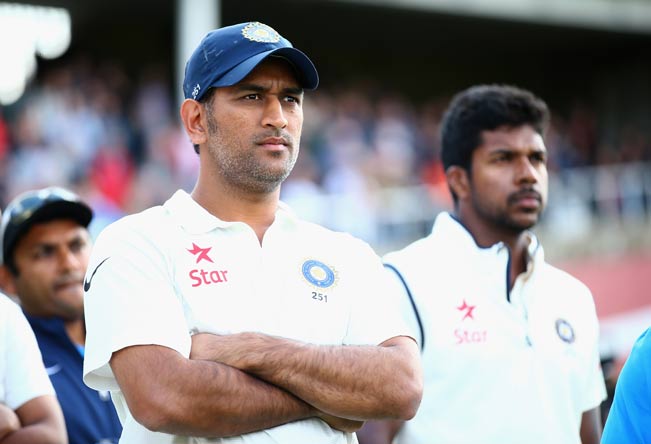 To be or not to be Mahendra Singh Dhoni is the question. Keep aside the fancies of the designation; the pressures of his job are one of the harshest to take in the world of sports. To be responsible for the act of 11 and aspirations of over a billion people is no pleasant beach stroll.
It was imperative that after India's gutless act in England, the swords would soon come out on Dhoni. The bowlers couldn't use the conditions to their advantage, the batsmen showed no will to fight. Even as Dhoni put up a brave act with a technique that looked out of place in English conditions to score four half-centuries, his captaincy lacked imagination and the will to outdo the opposition.
There weren't any ageing seniors in the side. The team wasn't facing an issue of burnout. There were no major injury concerns, barring Ishant Sharma. Enough practice matches were played ahead of the Test series. At best, there was little excuse left with the skipper to give for the abject surrender of the team. In harsh reality, there was none. However, like always, instead of analyzing the root of the issue and finding solution, there has been a call for axing Dhoni from captaincy.
For long, Dhoni's position in the Test side was under question – his style of batting as well his finesse as a keeper.  As much as one can make out of Dhoni's out-of-place technique for foreign conditions, he has been one of the most effective batsmen in the side. His wicketkeeping may not be up to the highest standards, yet he remains the finest stumper in the game; probably even one of the best in the history of cricket.
As a captain, there was little that Dhoni could've done when the players failed to individually or collectively put up a decent show. Yes, in an ideal scenario, a skipper with the kind of record Dhoni has to his name in abroad Tests should have been dropped. But there is a genuine dearth of better options for the selectors to look at under current circumstances. To have Dhoni at the helm of affairs works more on TINA (There Is No Alternative) factor than any other reason.
What makes this whole debate on whether Dhoni should be dropped as a captain or not interesting is the fact that just three Test matches earlier, the opposition skipper Alastair Cook was confounded with the same question and he hit back at the Doubting Thomases in fine style. Dhoni could possibly take a clue from his counterpart to help revive India's fortune and the naysayer's words.