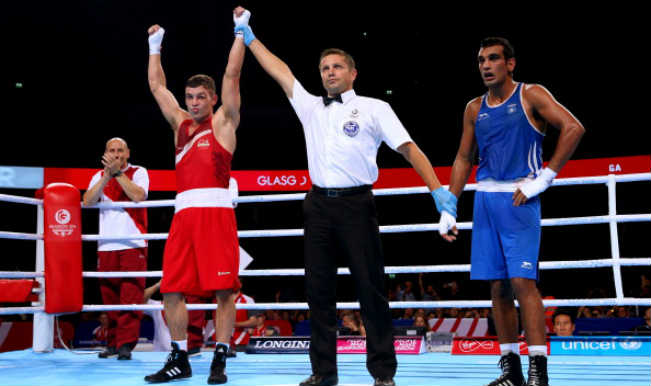 Englishman Scott Fitzgerald defeated India's Mandeep Jangra in the final of the boxing 69 kg welterweight division. Although the Indian lost the bout he fought well right till the end and even managed to put in some lusty blows on the Englishman, even managing to extract blood from his fore-head.
It was probably the guard down technique of the Indian that led to his defeat as the number of time he failed to dodge his opponents punches was considerably high due to his faulty technique.
Mandeep Jangra lost the bout with an unanimous decision of 3-0 as he lost the three rounds 30-27, 29-28 and 30-27, making the referee stop the bout after the first 3 rounds itself.
Earlier Manipuri boxers L. Sarita Devi and L. Devendro Singh brought in two more medals for India at the Commonwealth Games after settling for silver in their respective final bouts at the SSE Hydro here Saturday.
While former World Champion Sarita went down 1:3 to Australia's Shelley Watts in the women's 57-60 kg final, Devendro lost a close bout 1:2 to defending champion Paddy Barnes of Northern Ireland.