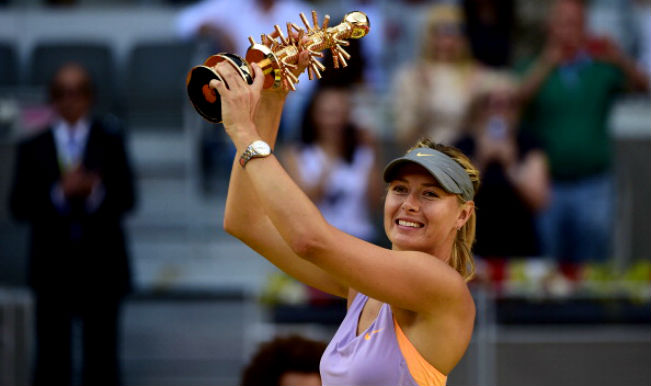 Eighth seeded Maria Sharapova won her second consecutive finals of the clay season of 2014 in span of fifteen days as she defeated Romanian Simona Halep in the finals of WTA Mutua Madria Open 2014. Maria leading lifetime head-to-head 3-0 against the World No. 5 took the title in tough three sets 1-6, 6-2, 6-3. With this win last year's finalist Maria Sharapova takes her career titles to 31. She lost to Serena Williams in 2013 Madrid Open finals. This is her first title at Madrid since making her debut in 2010 where she bowed out in the first round.
The match was not very easy for 27 year-old 'Masha' as the first set had Maria Sharapova in tatters with Simona taking control of the game right from the word go. The Stuttgart Open 2014 winner Maria still plagued by string errors had no answers to the Romanian No. 1 ranked player.  The first set was literally a one-sided affair with Halep playing some marvelous shots.
Maria Sharapova came back strongly to gain momentum in the second set to level the match taking set 6-2. The third set also saw a dominating Sharapova race ahead before Halep pulled back to be 3-4 in the match. But it was not good enough for the Romanian to stop the 2012 French Open champion.
Despite Simona Halep was better off the two players with more number of aces, less double faults but it was the timely break points that gave Maria Sharapova her first Madrid Open title. She had better first serve percentage with 69 per cent to Halep's 58 per cent.
With back-to-back titles at Stuttgart and Madrid, second French Open trophy does not look eluding for Maria Sharapova. With exactly two weeks to go for the French Open, the draw looks quite open in women's circuit.