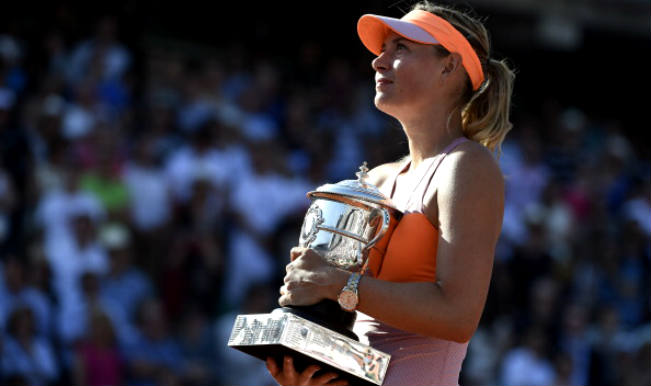 "No more cow on ice" as Maria Sharapova described herself on clay courts, braved her way through to win the French Open 2014 title. Seventh seeded, she battled to post a 6-4, 6-7, 6-4 win over fourth seed, Simona Halep from Romania. With this victory at Roland Garros, Maria Sharapova won her second French Open crown and fifth major overall. Maria Sharapova has stretched her three set victories on clay to 20-1 now.
The Russian was handed her second Roland Garros title by former tennis champion and women's singles legend Chris Evert. Maria Sharapova has earlier won Wimbledon 2004, the 2006 US Open, the 2008 Australian Open and her first French Open title two years ago in 2012.
Lesser ranked Maria Sharapova started out as the favourite against Simona Halep who was making her first final grand slam's appearance. But Maria possibly got off to the worst start by going down a break point in the very first game of the match. Sharapova overcame the jittery start to quickly even out for 2-2. After few more serve breaks and great rallies, Sharapova took the opening set 6-4.
The second set began with Sharapova taking a 2-0 lead and it looked like the 2012 French Open champion would race away with the match in straight sets, but Halep surprised everyone with a great comeback. The Romanian broke Sharapova when the Russian was serving for the match and pushed it for a tie-breaker. Simona Halep went on to win the second set 7-6 and squared the match.
With every passing minute, the match looked like a fierce-battle as it progressed to the third set. But it was Sharapova's faltering serves during the entire course of the match clicking at the right time. With both the ladies struggling to keep their serves, it was Maria Sharapova's experience that helped her become the champion. She out powered her Halep and sunk to the ground in joy as Halep's final shot went wide.
Sharapova ran towards her camp as teary-eyed Simona Halep sat alone. The Romanian player would see herself rank third when the new rankings come out on Monday. But it was 27 year-old, Sharapova who played like a true champion not only in the finals but throughout the tournament.
One of the best matches played in the entire tournament, French Open 2014 final would be remembered for the grit and determination shown by both the finalists – Maria Sharapova and Simona Halep.