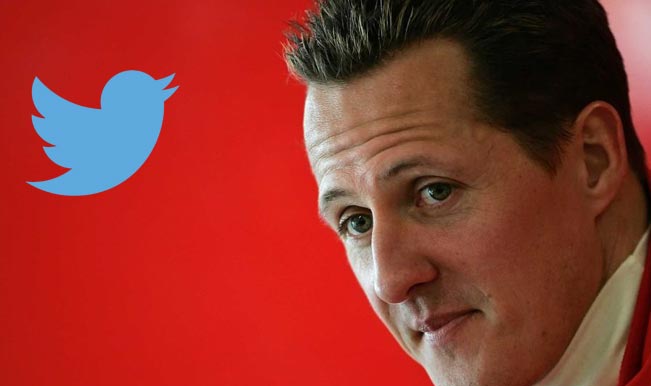 The news of F1 World champion Michael Schumacher coming 'out of coma' came as a rejoice for all his fans and well-wishers around the globe. The news was broken by Schumi's manager Sabine Kehm about the Formula One legend leaving the hospital in Grenoble; the news sent happy waves across the social media. The Twitterati went abuzz with get well soon messages for their racing star and #Schumacher has been trending since then.
As for Schumacher's family, there seemed no bound to their joys as they thanked the doctors, and hospital staff in the statement read out by Sabine Kehm. It said, "Would like to explicitly thank all his treating doctors, nurses and therapists in Grenoble as well as the first aiders at the place of the accident, who did an excellent job in those first months. The 45-year-old German driver would now be kept at an undisclosed location away from the public glare as he requires, "to continue his long phase of rehabilitation".
Michael Schumacher suffered from cerebral haemorrhage after the seven time World champion met with a fatal accident in the French Alps on 29 December, 2013. With the severe head injury, he had slipped into drug-induced coma and was under medical treatment ever since.
Read some of the tweets posted by his well-wishers and fans:
#Schumacher out of coma & out of hospital…..just in time for Germany's 1st game of this World Cup. Inspiration. #RioInRio

— Rio Ferdinand (@rioferdy5) June 16, 2014
@CroftyF1 @SkySportsF1 Great news #KeepFightingMichael @MercedesAMGF1 @InsideFerrari #Schumacher pic.twitter.com/XkXtmsMlef

— Rathbone (@R4THBONE) June 16, 2014
Former F1 Champion Michael Schumacher wins yet again! He is no longer in a coma and left hospital today. #Schumacher pic.twitter.com/V0Z0Ja2ARp

— Maps Maponyane (@S_Maps) June 16, 2014
Miracles do happen.out of coma after 6 months.#Schumacher is back.

— You Lied To Me (@ianandmee) June 16, 2014
Champions never give up > #Schumacher

— Piers Morgan (@piersmorgan) June 16, 2014
Formula One King races past coma and wins what is easily the toughest race of his life! Welcome back! #Schumacher

— Madhur Bhandarkar (@mbhandarkar268) June 16, 2014
In an incredible sports weekend the best story is that #Schumacher is recovering. Best wishes to him and his family. http://t.co/hOR5T4Xpdw.

— Alan Furth (@asfurth) June 16, 2014