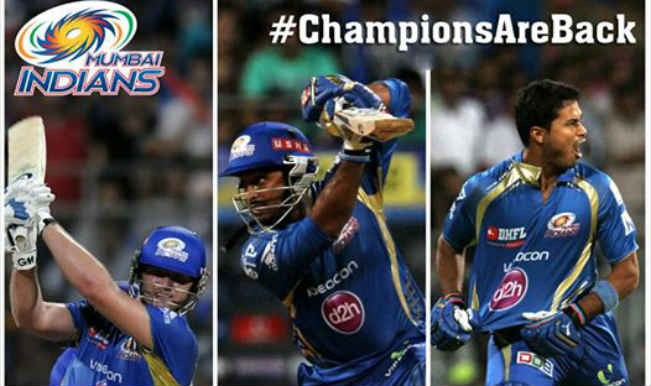 Little was the doubt about the future of the Mumbai Indians in IPL 7 after their initial performance in the UAE. They had lost 5 out of 5 in the UAE and the team combinations as well the confidence looked down and out for the defending champions. When the team played against the Kings XI Punjab in their sixth game at the Wankhede, no one had the belief and the trust in the team to show any kind of fight or struggle against the best team in the tournament until that point of time. But the team seemed to click a different sort of node once they stepped on the India soil and played in front of the home fans beating the top team in the tournament, and from then started a fairy tale journey that ultimately led to the qualification of the team in the playoffs of the IPL with a magnificent win against the Rajasthan Royals.
So what went right for the Mumbai Indians that resulted in their strong performance in the second half of the tournament? Was it the home conditions? Was it the inclusion of Lendll Simmons in the team? Was it the fact that they finally got a good opening pair that gave them good starts in every game? Whatever it might be, it certainly seemed to make a whole lot of difference to the team psyche and changed the attitude of the players for good.
You could feel the change in the attitude of the team when they came out to bat against the Rajasthan Royals. Right from the first ball they were on the attack and even though wickets kept falling at regular intervals, they never let go on the game as they knew that it was now or never for them. The chase, the last ball six, the emotions, the fans; everything seemed to be on the side of the Mumbai Indians. Everything worked from them.
The tension, the excitement, the nerve wrecking finish, the permutations and the combinations, anything and everything that was brought into the picture made things exciting and if there ever was a reason for someone to become a fan of the game, you should make them watch this gem of a contest between the two of the best T20 sides in the tournament.
Things look really well for MI moving into the Playoffs, the stage is set for one off the most exciting and excruciating finishes a tournament has ever had. The four teams that have qualified for the playoffs include two of the most consistent teams in the tournament and two teams that have risen from the ashes to make it to this point in the IPL.
Photo Credits:  Official Mumbai Indians Facebook Fan Page