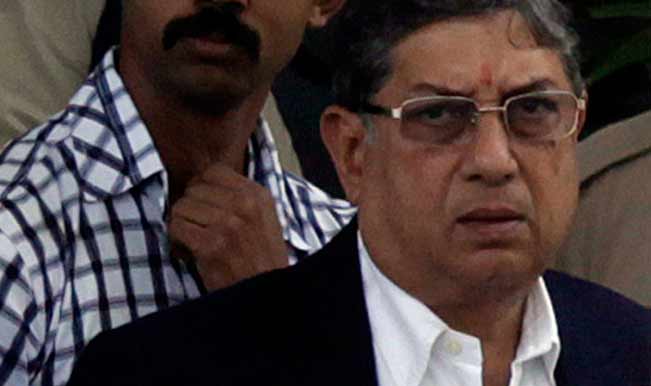 The story of N Srinivasan's rise is something every Indian is familiar with. Regarded as the world's most powerful cricket administrator, he is all set to take over the reins of the International Cricket Council (ICC) in July this year. With a Supreme Court hearing on Thursday and his impending resignation, we look at the life and times of N Srinivasan. (Read: Supreme Court proposes Sunil Gavaskar to replace BCCI chief N Srinivasan)
The journey so far: Narayanaswami Srinivasan, or Srini as he is fondly called, took over as Vice-Chairman and Managing Director of India Cements Limited in 1989, and was introduced to cricket administration by former BCCI president AC Muthiah (who, incidentally, had dragged him to court in the hopes that he'd choose between India Cements and Chennai Super Kings). Before assuming the presidency of the BCCI, he had also served as the organization's Secretary. He took over from former BCCI president Shashank Manohar in 2011, and has since been embroiled in controversies to the dozen. His talent for political lobbying, his efficiency, and his vision, has earned him the reputation of an ace cricket administrator and a stellar business man.
Political ties: Politicians are like vultures when it comes to heading regional/national sports bodies– whether for patronage, power, or just plain monetary gain.  The BCCI has become one such political battlefield where every party fields candidates for a chance to gain control– NCP's Sharad Pawar, BJP's Arun Jaitley, and Congress' Jyotiraditya Scindia are just some prominent examples. Mr. Srinivasan ensured that he stayed in the limelight through his well-known enmity with Tamil Nadu's Jayalalitha and Sharad Pawar, and managed to prevent their candidate from becoming the interim chief.
Controversy King: Until 2008, there was a clause that forbade any BCCI member from having any association with the matches conducted by it. This was conveniently modified to make way for Srinivasan's Chennai Super Kings at the IPL– a case that is still pending in the Supreme Court on grounds of being in conflict with the aforementioned clause. His son-in-law Gurunath Meiyappan was also recently convicted for spot-fixing, after which Srinivasan went on record to say that the issue had nothing to do with him.  His tumultuous and strenuous relationship with his gay son Ashvin has also been doing the rounds, with the latter accusing Srinivasan of physically and mentally abusing him and his partner. MS Dhoni, the captain of his IPL team CSK, was also appointed Vice President in his company this February. How does all this fit in the grand scheme of things? It is clear from all the aforementioned facts that it really is all about the money, and all that remains to be seen is whether it is possible to clean up this mess.
Road ahead: The BCCI chief has been asked to step down from his post within two days by the Supreme Court in order to proceed with investigations on the spot-fixing issue. After the strong observations of Justice Patnaik and Justice Kalifulla, several senior BCCI officials feel that there is no way out except for Srinivasan to step down. In the event that he refuses to step down, the Supreme Court could issue an order to forcefully vacate the Chair. He could fight back in the annual general meeting held in September, but the real question is how much power he will wield even after his resignation.