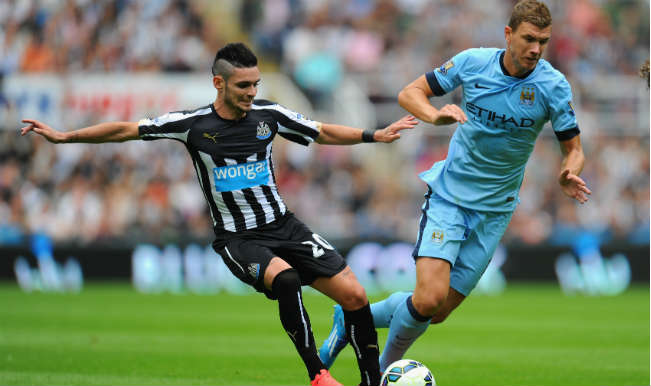 (The opening match for Manchester City in the Barclays Premier League 2014-15 begins by taking on Newcastle away at St James' Park. Catch all the live updates here.)
FT: Manchester City win 2-0 against Newcastle. It hasn't been the best performance by City nor does the scoreline justify Newcastle's performance. Newcastle were great at times giving City some scare. But it was City's quality that counted. Sergio Aguero was brilliant, he scored nine minutes after coming off the bench. This was probably the best performance by City among all the big teams that have played their openng games till now. If Chelsea perform as well or better they will end up justifying their favorites tag.
90+1′: As expected there are four added minutes. Meanwhile, Sissokko comes close to equalizing but it goes over the bar. The ball goes into the other half through the goal kick and guess what it is GOOOOAAAAALLLLL!!!! by Sergio Aguero. He dribbles the ball on the left and shoot towards Krul who saves it. Aguero stands up quickly and scores. Great goal!
87′: Newcastle introduce Ayoze Perez for Riviere and he immediately makes a mark on the match coming close to scoring twice. One of his shots is deflected by Kompany and it misses the goal by a whisker. Aarons is next to come close to scoring but its out for a goal-kick. Later, Fernando gets a yellow, Manchester City's fifth. There will be 4 extra minutes
82′: Maybe that was said to early. The passing is slow once again as the players seem to look tires. Meanwhile, Sergio Aguero comes in for Edin Dzeko. Aguero wasn't 100% fit to start the match. That is why he was on the bench. Meanwhile, it is difficult to find reasons as to why was Frank Lampard in the reserves. He's not on bench.
78′: Milner on for Samir Nasri as the dutch right back Janmaat recieves the first yellow card for NEwcastle. The tempo of passing is high again. Seems like Fernandinho and Milner have had a positive effect.
74′: Newcastle replace Yoann Gouffran with Rolando Aarons. A minute later Vincent Kompany is given a yellow card, City's fourth after he fouls Colback just outside the box. Cabella's free-kick is blocked by the City wall.
72′: There were a few minutes of circling aroung the Newcastle United penalty box by the Manchester City players. But then they attacked, only for Dzeko to fouled clumsily by Sissoko near the box. Fernandinho replace Stefan Jovetic. The free kick is taken by Yaya Toure which floats over the net.
70′: After a few passes here and there Manchester City are circling around the Manchester City box.There isn't much activity now. The pace has slowed down. Even Manchester City's passing has slowed down.
62′: Newcastle Substitution: Obertan comes in for Anita. Meanwhile the corner that Newcastle won is uneventful. The ball goes to the Newcastle half and Dzeko comes close to scoring  a header from a Jovetic cross which goes over the crossbar.
60′: Sergio Aguero, James Milner and Fernandinho are warming up. MEanwhile Stefan Jovetic comes close to scoring a goal. But that strike is blocked off. Manchester City are passing the ball well. They are attacking well too but Newcastle have been good in defense. If their offense puts in more effort it would be great.
57′: After David Silva and Martin Demichelis is is Alexander Kolarov's chance to recieve a yellow card. The free kick is left of City's box. Colback puts a wonderful delivery but Williamson heads it over the crossbar.
52′: Cabella has been quite good on his debut till now. But he is now fouled by Demichelis near the City penalty area. Colback gives a good delivery for Williamson to shoot but it hits the defenders and goes away. Both teams are attacking well with Cabella being seen numerous times. The only annoying part is his hairstyle.
49′: Goufrran comes cloese to scoring as there is a scramble off a Newcastle corner in the City penalty box. A minute later Cabella and Sissoko team up with Cabella almost scoring only for City's Kompany and Fernando to block it.
46′: Second half starts and there is a challenge on Silva by Remy Cabella. It wasn't serious and there is no card distributed. City, meanwhile are bac to business. Play is stopped because of a foul by Demichelis on Riviere. The free kick isn't great and the ball is back in the mid-field.
HT: Newcastle United 0-1 Manchester City. Newcastle come close to conceding a second but a nice David Silva through ball is met with confusion by left back Kolarov and Jovetic as the mess up a good chance. This half has been very interesting. Manchester City have shown some qualities that made them Champions last year. But Newcastle have played well too.
44′: Yaya Toure and Fernando team up to foul a Newcastle player. How stupid! And then the the giant Toure argues with the referee. For all his quality as a player Toure will never stop his foolish antiques. Meanwhile there are two mminutes of extra time and Nasri comes close to scoring a second but is blocked off by Williamson.
41′: Newcastle have had 4 shots on goal compared to City's 5. But the Citizens had three on target in comparison to Newcastle's none. It is just this finishing skills that Newcastle have missed.
38′: GOOOOAAAALLLL!!!!!! David Silva scores. Yaya Toure gives a brilliant cross from the midfield which Edin Dzeko collects and gives a cute back heel pass to Silva who puts the ball in the net. Newcastle's fighting spirit will be tested now.
34′: David Silva gets a yellow for a foul on Newcastle's Anita! He clips Anita's shin cheekily after losing the ball. That was the first yellow card. Anita meanwhile is getting treatment. Riviere has looked great for Newcastle but he looks isolated. Meanwhile, Anita is off the pitch.
30′: Williamson blocks a shot off Manchester City's Jovetic. After a few passes here and there Manchester City are back attacking. But that is foiled and Newcastle launch a counter which is foiled as well. Basically, the ball is just oscillating in the field like a pendulum! Please don't delve into the physics of it!
27′: This match is exciting till now with lots of challenges and quick passing and fast dribbles. Its a pity Newcastle don't maintain that standard usually. The possession starts are out and it is 59% for Manchester City and 41% for Newcastle. The ball is out for a goal kick and Krul takes it but the ball is hit wide by Gouffran.
23′: Newcastle seems to have steadied their ship and started attacking themselves. After Riviere came close to scoring by hitting the ball wide it was Cabella's chance. But Manchester City's defense holds up well. This is an exciting match with both teams now attacking and counterattacking.
21′: Newcastle are finally attacking then there is Manchester City for counter-attack. Although the counter attack is foiled the ball is back in City's possession. A challenge on Demicheslis sends him tumbling outside the boundary. Quite theatrical! It is understandable that he's interested in theatre but please concentrate on the match Martin! You won't get a free kick for it!
17′: Newcastle's Cabella shoots well but the ball is over the bar. The resulting goalkick eventually puts the ball in Manchester City's possession. It is surprising that Manchester City haven't scored yet. They are passing quick and attacking quicker. The stadium is noisy. One can see the MH17 aircraft posters at places.
12′: Manchester City seem to be the most convincing among all the teams in the matches so far. 11 minutes and there have already been to chances for Manchester City to break the deadlock. They are really living up to their favorites tag till now. Newcastle are scrambling as they concede a corner. The corner isn't noteworthy. But City look like they mean business and want to score a goal fast. Are the other teams watching?
7′: Both teams are taking their chances at winning and losing the ball. Edin Dzeko had come close to give City the lead. Manchester CIty start of with their quick passing and good defending, a style that made them ruthless for most part of last season. Whenever Newcastle get the ball City are quick to come and challenge for it. There is a flurry of tackles here and there from both sides.
1′: It is kick off time. Both teams start in their own home jerseys. Before the match there was a tribute to both John and Liam, their family, two people who were killed in the Malaysian Airlines disaster over Ukraine. Fabricio Coloccini and Vincent Kompany laying wreaths in the centre-circle. There will be a minute's silence.
The team line-ups are out. Here they are… Manuel Pellegrini has fielded a side that was on regular show last season. Aguero being on bench is surprising. Can Dzeko match Aguero's hunger for goals? Newcastle also don't have too many changes. New signing Fernando comes in for Fernandinho, although Eliaquim Managala will have to wait for another match to play in the Manchester City jersey.
Newcastle: Krul; Janmaat, Williamson, Coloccini, Dummett; Colback, Anita; Sissoko, Cabella, Gouffran; Riviere.
Subs: Aarons, Perez, Haidara, Elliot, Obertan, Steven Taylor, Abeid.
Man City: Hart; Clichy, Demichelis, Kompany, Kolarov; Fernando, Toure; Nasri, Jovetic, Silva; Dzeko.
Subs: Zabaleta, Milner, Caballero, Navas, Aguero, Fernandinho, Boyata.
Referee: Martin Atkinson
In the second match of the day Newcastle face Manchester City. Manchester City have been relatively quiet in this transfer window buying a few unknown players, with the exception of Eliaquim Mangala from FC Porto. Frank Lampard came on loan from his new club and the Sky Blues' sister club New York City while Bacary Sagna signed on a free transfer. But whether it will be enough for them to defend their title will only be known after a few matches.  The match against Newcastle will be the first clue.
Alan Pardew had abused Manuel Pellegrini last season, calling him a "f***ing old c**t." The two men renew the acquaintance. Expect Newcastle to give the Sky Blues some tough competition.