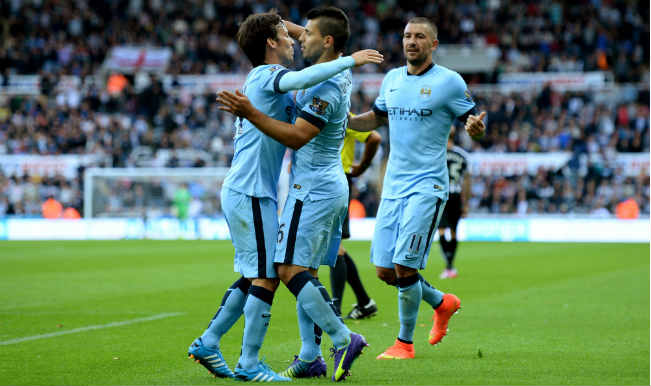 Quick passing, solid defense and fearsome strikers, that is what made Manchester City Champions in fiercely contested Barclays Premier League last season. They started their first match with exactly those characteristics as they beat Newcastle 2-0 away at St. James' Park. David Silva and Sergio Aguero scored the two goals.
Goals: Newcastle 0-2 Manchester City
(Silva 38′, Aguero 90+1′)
City started the match brilliantly with quick one-two passing and quicker counter attacks unsettling the Newcastle defense. In the first 12 minutes they had three shots on target with Edin Dzeko, Stefan Jovetic and Samir Nasri all taking shots on goal, only for Tim Krul to save it. It was only after the first twenty minutes when Newcastle steadied their ship and launched counter-attacks. But Manchester City's defense held up.
It was only a matter of time before City would have scored and although it came a bit late in the first half, it did come. Yaya Toure floated the ball from the halfway mark and Edin Dzeko controlled it well. Dzeko then gave a beautiful back heel pass toward David Silva and the Spaniard had to simply put the ball in the net. It was a great assist by Dzeko who did more work for the goal than Silva.
In the second half the Magpies came close to equalizing many times, with new signing Remy Cabella proving very influential. His hairstyle may have been the butt of ridicule but his playing style wasn't. He was clever in his passes and superb at finding spaces but the City defense held up. They came close to scoring with substitute Ayoze Perez shooting a minute after he made his debut but his shot was deflected just wide off the post with Kompany and Fernando both diving to block the shot.
In the 82nd minute, Sergio Aguero was substituted for Edin Dzeko. Nine minutes later, even though he's not fully fit, he scored against the run of play. Aguero won a one-on-one with Newcastle captain Fabricio Coloccini and shot with his left foot but Krul saved it. Aguero somehow managed to stand up and shot the rebound to make it 2-0. A great solo goal by City's best striker.
Newcastle's effort was not justified by the final scoreline, especially their darting runs towards the end. But it was City's class that won it for them. It was the best result in the opening matches of the Premier League, with Chelsea the only one left to play at Burnley.
Match Statistics
Possession: Newcastle 45%-55% Manchester City
Shots: Newcastle 12-13 Manchester City
Shots on Target: Newcastle 0-5 Manchester City
Yellow Cards: Newcastle (Janmaat) 1-5 Manchester City (Kolarov, Fernando, Kompany, Demichelis, Silva)