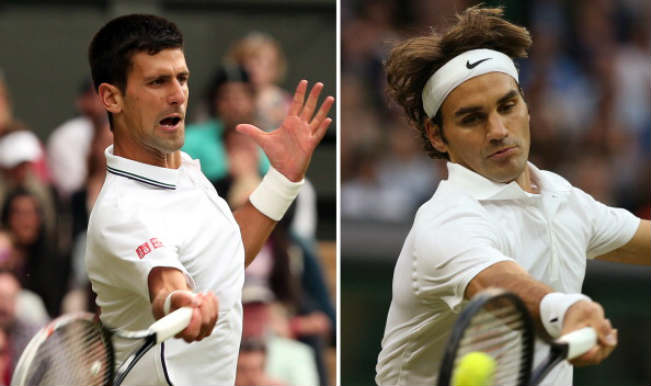 The epic battle for the ultimate glory has reached its final stage and the two warriors seeking the prestigious Wimbledon title are seven times winner Roger Federer and 2011 Wimbledon winner Novak Djokovic. The final could not be more grandeur than this as both the players belonging to the famed Big Four club of the Open Era faces each other once again for 35th occasion. Roger Federer narrowly leads the head-to-head 18-16 over Djokovic.
32-year-old Federer, who is seeking his record eighth Wimbledon title, has beaten his old rival Djokovic at the All-England Club in 2012 for Championships title. Roger Federer is currently tied with American Pete Sampras and British William Renshaw with seven titles. Federer not only claims the record title but also will become the oldest man in Wimbledon history to do so. But the path is not going to be a cakewalk for Federer who faces an inspired Djokovic who is also seeking for the sweet spot after the bitter loss at Roland Garros.
Novak Djokovic had to shake off a determined opponent in Grigor Dimitrov during his semi-finals match while Roger Federer looked like a true champion as he demolished the young Canadian Milos Raonic in his match. Djokovic has shown mental toughness as he turned the match around from the brink of losing throughout the tournament, something that can trouble Federer.
Federer and Djokovic have played each other in all the grand slams and the two have met just one match on grass court during the 2012 Wimbledon final that went in Federer's favour. The last time these two met was on the clay court in Monte Carlo where Federer was winner once again.
There is hardly any difference between the two players at this stage and match could tilt in anybody's favour. The two are very experienced to turn the match from any point but getting a good start is something both would eye. Matches such as these can be tricky as mind says it could be Djokovic's day at the green court but heart vouches for the Federer's experience getting his hands on the coveted trophy.