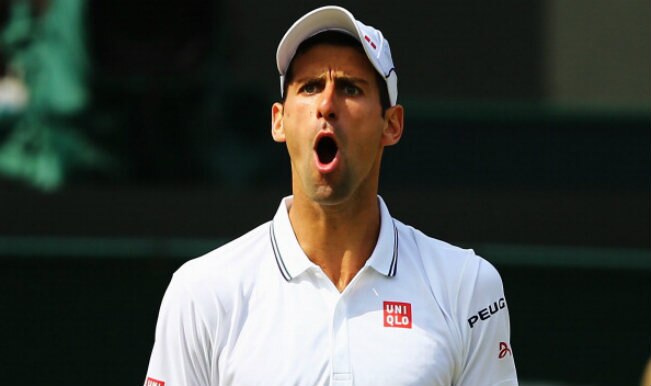 Novak Djokovic not only survived an unexpected early ouster from Wimbledon Championships but also put a break on the shocking results of the Day Nine. After grueling five sets top seed Novak defeated the No. 26 seed Marin Cilic of Croatia 6-1, 3-6, 6-7, 6-2, 6-2.
Starting as the hot favourite against Croatian Marin Cilic, Djokovic started off well taking the first set easily 6-1. Marin who has 0-9 win-loss record against the Serbian came back strongly to take the second set 6-3 and leveled the match with one set a piece.
The 26th seed Marin Cilic looked ambitious to register his first victory over the Djokovic displayed some sensible tennis to take lead in the match by winning the third set in tie-breakers. His first serves were in place and made Novak Djokovic uncomfortable with timely aces.
But the top seed kept calm and took advantage of jittery Cilic in the fourth set and turned around the course of the match. At one point it looked like it would be downfall of the top seeds but Novak Djokovic managed to take control of the wary situation as Cilic's game dropped. He took the fourth and fifth set with identical score 6-2.
Novak Djokovic will next face No. 11 seed Grigor Dimitrov who downed defending champion Andy Murray in straight sets. Playing at the Centre Court the Bulgarian player showcased some classic tennis to oust Andy Murray.