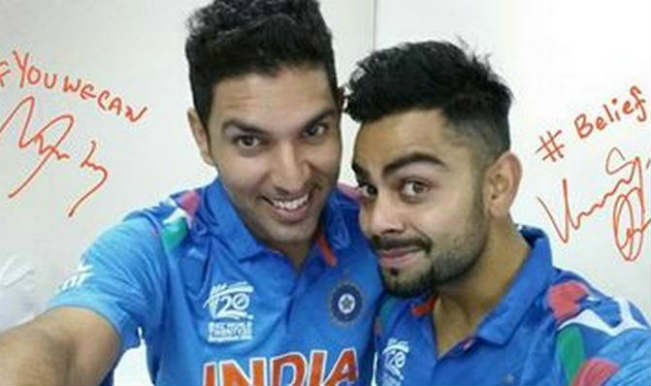 Selfie fever hits all time high as Indian cricket team members Yuvraj Singh and Virat Kohli posed for one priceless moment. The picture was shared at the official Indian Cricket Team Facebook fan page and instantly caught everyone's attention. Both Yuvraj Singh and Virat Kohli looked in a jovial mood. The team is currently in Bangladesh as one of the 16 teams participating in ICC World Twenty20 2014.
Selfies have touched upon everyone from the hot girls to handsome men around the world or the famous celebrities both from Hollywood and back at home turf in our Bollywood as well. We all remember the famous 'Oscar selfie' tweeted by Ellen Degeneres, which really affected our actors Shahrukh Khan and Salman Khan to pose for selfies. Mind you both of them in different frames and occassions, though we would love both Shahrukh Khan and Salman Khan in one frame sefie.
Well going by the looks of this recently posed selfie by our players, it only indicates a happy atmosphere in the dressing room, considering the drubbing Indian Team got in recently concluded Asia Cup 2014 under the captaincy of Virat Kohli. Hopefully this mood reflects on the field in their performances. We really wish to see the same Yuvraj Singh hit six sixes off the bowler this Twenty20.