Football players often go down easily and dive after receiving the slightest contact. Even after going down few players feign injuries. But when it comes to serious injuries that footballers suffer, they suffer the worst in forms of leg breaks and head injuries. From Eduardo da Silva to Djibril Cisse, football has seen its fair share of terrible injuries. We warn you, these aren't for the squeamish. Here is the list of the worst injuries sustained by football players:
Antonio Valencia (Manchester United)
Ecuadorian winger Antonio Valencia was ready to replicate a terrific 1st season he enjoyed with Manchester United but unfortunately broke his ankle while running down the right flank. It was in October 2010 against Rangers in the Champions League that Valencia suffered the horrifying injury.

Djibril Cisse (Liverpool)
The French striker injured his left leg while running with the ball alongside Jay McEveley when his left boot got caught in the turf, resulting in his tibia and fibula being broken. The striker returned earlier to action than expected though, coming on as a substitute against Juventus in the Champions League in April 2005 in less than 6 months.

Henrik Larsson (Celtic)
Henri Larsson was out for 8 months after breaking his leg in two places in a challenge with Lyon defender Serge Blanc in 1999 in the UEFA Cup. The severe injury threatened to end his career but after a miraculous recovery he got back to his best the next season and continued to trouble several more defenders.

Eduardo da Silva (Arsenal)
Croatian forward Eduardo Da Silva was hacked down by a clumsy challenge by Birmingham defender – Martin Taylor who rightly received a red card. The injury was so disturbing that the broadcasters chose not to show it.

Alan Smith (Manchester United)
While playing for Manchester United in February 2006 against Liverpool in the FA Cup, Alan Smith severely dislocated his left ankle while rushing out to block a trademark thunderbolt freekick by left-back John Arne Riise.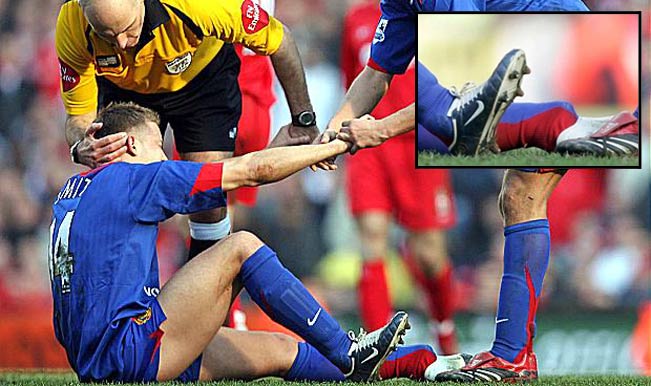 David Busst (Coventry City)
Coventry defender David Busst collided with Manchester United defender Denis Irwin during a corner kick. As a result, Busst got his leg broken so badly that the bone pierced the skin and his blood had to be cleared from the pitch. After the injury David Busst could never play professionally again.

Petr Cech (Chelsea)
Remember the name. Stephen Hunt. The midfielder's knee hit Chelsea keeper right in the head. Initially unaware of the seriousness of the injury, the doctors later reported that it nearly cost the Chelsea goal keeper his life. Cech underwent surgery for the depressed skull fracture. That's the reason why he always wears a protective helmet while playing.

Francesco Totti (Roma)
In 2006, Roma legend Francesco Totti suffered a serious leg injury against Empoli F.C, fracturing his left fibula and severing the interconnecting ligaments with the malleolus. The same night he was operated by a renowned Italian orthopedic surgeon.

Inigo Diaz De Cerio (Real Sociedad)
In 2008 Spanish striker Inigo Diaz de Cerio suffered a serious injury after a collision with SD Eibar goalkeeper Zigor, fracturing his right leg's tibia and fibula. After a successful surgery, he had a slow but effective recovery, returning to the football scene in almost a year.

Aaron Ramsey (Arsenal)
Exactly two years after Arsenal witnessed the horrible double leg-break that Eduardo sustained in a match at Birmingham City. Aaron Ramsey suffered a similar sickening injury to his lower right leg after being tackled silly by Stoke City defender Ryan Shawcross.

Djibril Cisse (France)
France striker Djibril Cisse is probably one of the most unfortunate players in the game, having broken both his legs during his career so far. While playing for France Cisse broke his right leg during a friendly against China. The striker was tackled by China captain Zheng Zhi and twisted his leg while falling and was ruled out of the 2006 FIFA World Cup in Germany.