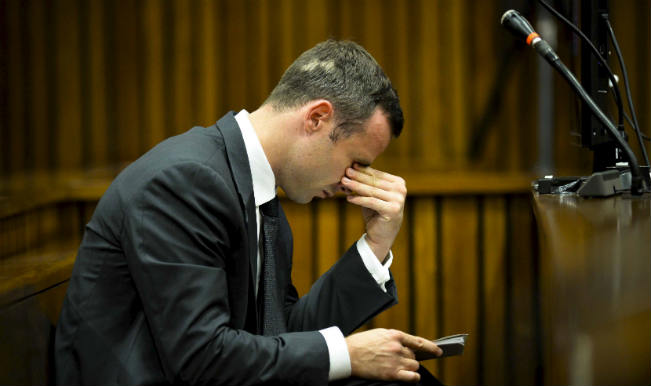 Johannesburg, March 13: The forensic analyst who examined the cricket bat used by Paralympian Oscar Pistorius to break down the toilet door after shooting Reeva Steenkamp was challenged by the defence over the fact that there are strong signs that the evidence was handled incorrectly.
The State's weakest moments in the trial of Pistorius were shown on Wednesday as forensic analyst Colonel Johannes Vermeulen, who specialises in materials analysis, testified.
According to News24, Pistorius's lead defence advocate Barry Roux challenged Vermeulen over two points- he did not gather the evidence properly when he visited the scene of the shooting in March 2013 and that it was tampered with after it was taken into police custody.
The report mentioned that the photos Vermeulen took, when compared to those taken about a month later show that someone placed a boot-print on some of the door splinters and then wiped them off, adding that they also show that he missed some of the door parts when he did his in-lab analysis.
Vermeulen explained that according to standing police orders, the evidence has to be protected and kept in either a gun safe or a locked room with controlled access and refused to accept that the only way that the prosthetic 'stain' could have been on the splinters was when Pistorius stepped on it while carrying Steenkamp's body out.