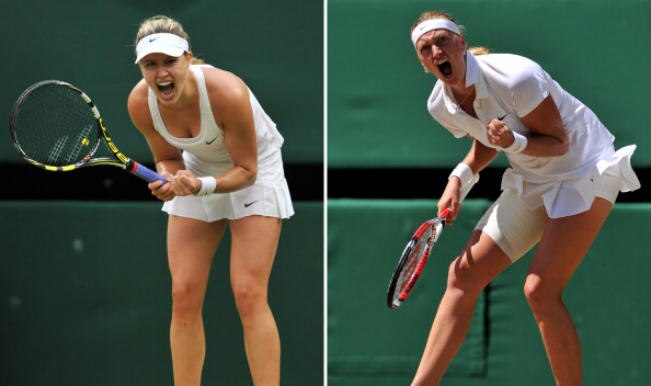 The fairy tale run continues for the 20-year-old Canadian Eugenie Bouchard at the All-England Club as she makes her maiden Wimbledon final. The ladies' singles final off Wimbledon 2014 is a battle of contrasts. On one side is Eugenie Bouchard who is already foreseen as the next marketable player while her opponent is shy and reserved sixth seed Petra Kvitova, former champion in 2011.
13th seed Bouchard, 2012 junior singles champion has all it takes to be the winner at the biggest stage of tennis world. Her aggressive style of playing was widely noticed as she dispatched the third seed Simona Halep in her semi-finals match. With her last win she not only displayed consistency throughout the year but also became first Canadian to reach grand slam singles final.
Well no pints for guessing that everyone is comparing Bouchard's rising game at the Wimbledon to that of Maria Sharapova's epic triumph at All-England Club in 2004. Maria Sharapova was 17 when she achieved the prestigious feat and Bouchard would understand the importance this win is to her career, both on and off the court.
Unlike Eugenie Bouchard, her opponent is not very media savvy. Petra Kvitova has maintained a very low-profile in the sporting world. She announced her arrival at the circuit when she surprisingly defeated Maria Sharapova to lift Wimbledon trophy in 2011. But since then Kvitova failed to add any major to her single glory. Coming back to the centre court, Petra Kvitova will have the experience of playing in front of large crowd.
There are various differences in Eugenie and Petra's style of playing. But both the girls belonging to the new crop of players are hungry for success and with the fans routing for Bouchard's win more, might just work as an added pressure for the young Canadian. Coming to the centre court, one who keeps a check on their nerve will have the last say.