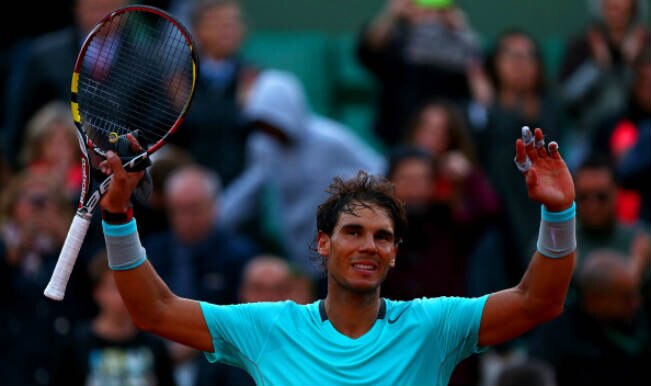 Rafael Nadal won record 33 straight matches at French Open as he overpowered his fellow Spanish player David Ferrer with 4-6, 6-4, 6-0, 6-1 win. He stretched his win-loss record at Roland Garros to 64-1, with the lone loss coming against Robin Soderling in 2009. Playing to a seeded player so far in the tournament, Nadal started off to a slow start before gaining momentum to finish the match in four sets.
David Ferrer started with holding his service and the top seed followed. But soon string of errors by Rafael Nadal made things easy for David Ferrer, who took the first set 6-4 in 49 minutes. He has been complaining of back pains and it showed in his slow serves and the back hand errors.
The second set started with Nadal taking control of the rallies and returned more to exhaust his 32-year old opponent. Nadal who turned 28 on Tuesday took an early break in the second set to go 2-0 up. Nadal committed less unforced errors, played with control on the backhand and with the forehand from the baseline, troubling Ferrer. Nadal won the second set 6-4.
By the time third set started, Nadal displayed some ruthless hitting breaking Ferrer's service thrice to take the third set 6-0. He raced ahead in few minutes to win ten games in a row to go 4-0 ahead in the fourth set. He was on verge of winning the last set to nil but David Ferrer managed to hold his service game but could not keep it for long as Nadal broke him for the last time to take the match as Ferrer's forehand went long. The match that went on for 2 hours 34 minutes saw the top seed Nadal rallying behind from a set down to race to the victory in next sets.
Despite clouds over his injuries, fitness, Rafael Nadal remains the man to beat on the exhausting red surface of Roland Garros. It was a wonderful sight to watch his supporters in form of coach and uncle, Toni Nadal and girlfriend Xisca Perello cheering him for the match.
Rafael Nadal will next play the winner between Andy Murray and Gael Monflis in the semi-finals.