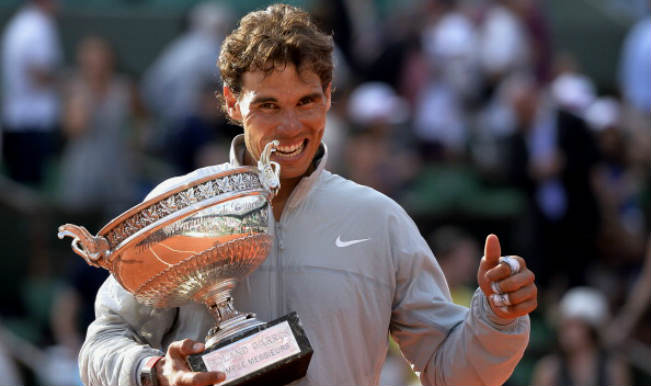 Rafael Nadal rose like a phoenix to do the unimaginable task over the fortnight in Paris . The World No. 1 defeated his fierce opponent Novak Djokovic from Serbia, in four sets 3-6, 7-5, 6-2, 6-4 to win the French Open crown for the ninth time; fifth in a row. The Spaniard also goes down in the records book as an only player to successfully win Grand Slam title for five consecutive times. With this win, Nadal extended his lifetime win-loss record in Paris to 66-1 and now will also retain the Numero Uno ranking in the world.
In a classic final played by two of the best players on tour, Rafael Nadal and Novak Djokovic displayed quality tennis over the course of more than three hours. Rafael Nadal with the win at Roland Garros Final has now won a total of 14 Grand Slam Championships, tying with American legend Pete Sampras.
World No. 2, Novak Djokovic seeking his French Open title, the only grand slam title eluding from his collection, started on a positive note. He played well, giving little scope to the defending champion Nadal to play his shots. Djokovic quickly converted first of the break point on Nadal's serve to take the opening set 6-3.
But Nadal drew inspiration playing at his favourite stadium, Philippe Chatrier to change the dynamics of the game. He braved his way through to dominate rallies when his serves were failing and backhand giving little help. It was Nadal's determination which led him to take the second set 7-5. Nadal then went to show his ruthless side with every passing shot. He quickly took a massive lead in the first set and after little resistance from Djokovic, Nadal took the third set 6-2.
With Djokovic's serve and game faltering and not as effective as it was during the opening hour, Nadal directed his long-time rival for easy game points. Nadal won the championship's point as the Serbian ace double-faulted amidst crowd roar, the only low point of the classic final.
Rafael Nadal, who also made the Australian Open 2014 final, losing eventually to Swiss Stanislas Wawrinka showed his champion side. With the win over Djokovic, he maintained his perfect record of 6-0 win in French Open and 23-19 overall. The win became more special when he was handed over the Roland Garros trophy by none other than tennis legend Bjorn Borg, winner of six French Open titles.