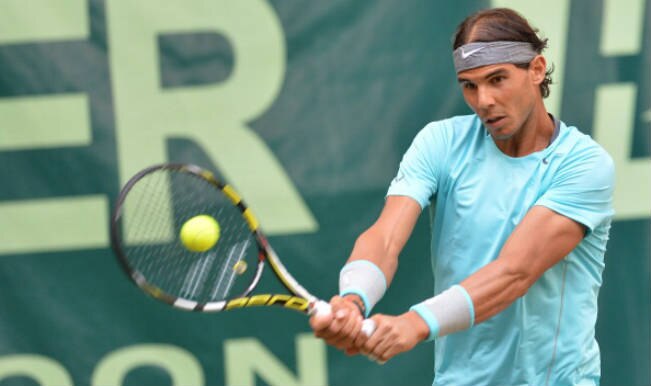 London, June 13: World No. 1 Rafael Nadal reportedly lost 6-4, 6-1 to Dustin Brown in shock straight sets in his first match on grass this year at the Gerry Weber Open in Germany. Nadal, who recently won his ninth French Open title, lost his serve three times against Brown in under an hour in the Halle second round.
According to the BBC, Nadal said that he did not play, adding that that can happen when one plays an opponent like this, but he said that he does not want to talk about the opponent. Nadal said that for the first four games Brown did not put any returns on the court and then suddenly he was playing winners from the return, so it is difficult to analyze these kinds of matches.
Nadal added that the only thing he can do is keep working the way that he did the last three days, because he came here, he tried hard, he tried his best. World number 85 Brown will play Philipp Kohlschreiber in the quarterfinals .
Meanwhile, Roger Federer began his preparations for Wimbledon with a three-set victory over Portugal's Joao Sousa winning 6-7 (8-10), 6-4, 6-2 to reach the last eight, the report added.