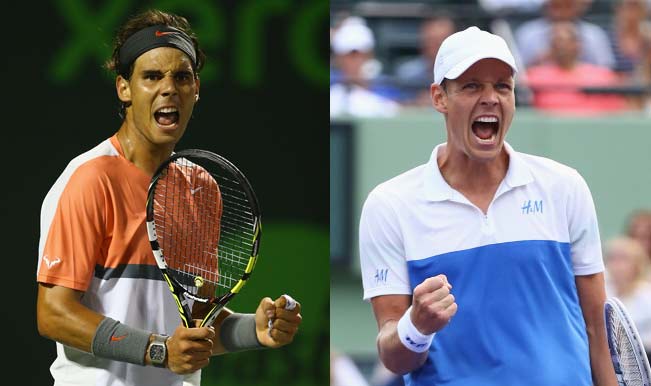 Rafael Nadal's vulnerable side was exposed by Canadian player Milos Raonic at the ATP Miami Masters event but it was world no. 1 Nadal's experience that helped him scrape through this thriller. At the Sony Open Tennis 2014 event, Rafael Nadal escaped from becoming the next top ranked player to fall after Roger Federer fell to Japan's Nishikori. Rafael Nadal won the quarter-finals match against 23-year old Milos Raonic 4-6, 6-2, 6-4.
As Rafael Nadal was finding difficult playing against Milos, his next opponent Czech player Tomas Berdych managed to edge past sensational Ukrainian player Alexandr Dolgopolov 6-4, 7-6. Tomas Berdych is also in reasonable form first making to his first ever semi-finals appearance at Australian Open, 2014 and later to the finals of Dubai Open, 2014 before losing to Roger Federer.
Spainard Rafael Nadal has been the finalist here at Miami for three times before in 2005, 2008 and 2011. Against Tomas Berdych, Nadal is leading 17-3 head-to-head, with the Czech No. 1 winning way back in 2006 against Nadal. Nadal has won two titles this calendar year and would like to add his first ever Miami Masters glory to his 62 titles overall. On the other hand, Tomas Berdych would look forward to making a comeback in the top 5 with another final appearance. He has so far made to four semi-finals this season.
In the other semi-finals line up World no. 2 Novak Djokovic faces Japan's Kei Nishikori. Nishikori defeated Roger Federer in the quarter-finals 6-3, 7-5, 6-4 while Djokovic downed Andy Murray 7-5, 6-3.