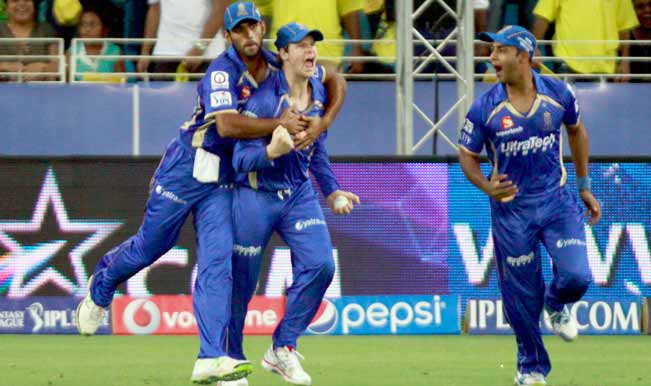 (Rajasthan Royals take on Royal Challengers Bangalore in the 14th match of IPL 2014 at Dubai on Saturday. Catch Live Scores and Live Updates of the match here)
Rajasthan Royals will be looking to redeem themselves after coming so close to victory in their last match against Chennai Super Kings while Royal Challengers Bangalore will try to recover and maintain their good form and improve their bowling to inch their way towards becoming the all-time famed teams of IPL despite their ill-fated loss to Kolkata Knight Riders.
We wait for Chris Gayle to make his entry into IPL 2014 from his injury and hope Yuvraj Singh can live up to the amount spent on him by the RCB owners. Virat Kohli got a nasty blow on the face after an odd bouncing ball hit him at speed on the face but he recovered quickly and did not miss most of the match.
Rajasthan Royals captain Shane Watson may have taken the blame for the the team's loss in the last match but they will have to find the right combination to make an impact in their games to make the journey to the title.
Catch the Live Score of the Rajsathan Royals vs Royal Challengers Bangalore match of IPL 2014 here
Check the IPL 2014 Points Table, Match Results and Team Standings here
For the complete IPL 2014 Schedule, Match Fixtures and Complete Time Table of IPL 7 click here.