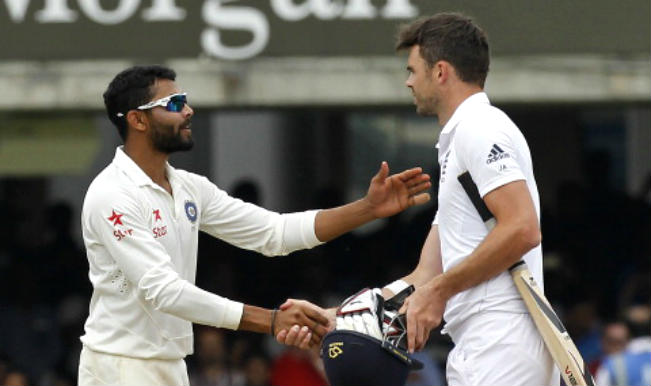 Indian all-rounder Ravindra Jadeja has been fined 50 per cent of him match fee over the spat with England pacer James Anderson that took place in the first Test Match in Nottingham. Ravindra Jadeja who was facing disciplinary action over the incident taken place in the opening Test Match was found guilty of Level 1 breach of the ICC Code of Conduct for Players and Player Support Personnel.
The two players from respective side Ravindra Jadeja and James Anderson had an ugly altercation. James Anderson was charged with 'abusing and pushing' Jadeja, that took place in the Trent Bridge pavilion at lunch on the second day of the opening Nottingham Test match. James Anderson faces ban of matches that can go up to four matches for he has been found guilty of Level 3  breach of the ICC Code of Conduct.
The match referee David Boon who has given his verdict in Ravindra Jadeja's hearing fined him with lesser punishment of cutting the match fee. Earlier Jadeja was held by England players and officials alleging him of approaching Anderson in threatening manner. But David Boon found him guilty under Article 2.1.8, that relates to 'conduct contrary to the spirit of the game' and not that of the original offence of threatening a player that falls under Level 2 breach.
The hearing over Ravindra Jadeja's decision took place in Southampton with the presence of both the players Jadeja and Anderson, along with the other ICC council members and match referee David Boon. The meeting lasted for 2 hours and 30 minutes before Match Referee Boon adjudged Jadeja guilty under the article 7.6.5 of the code.