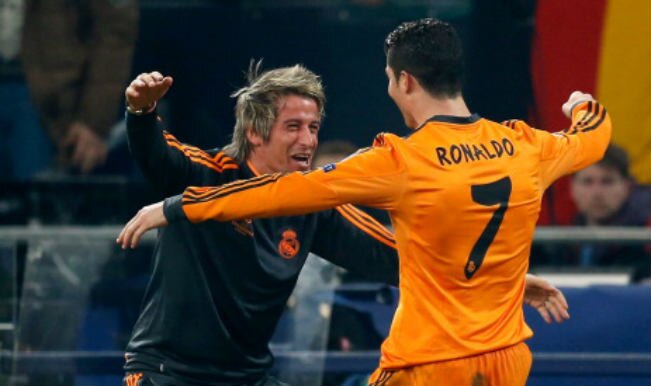 Berlin, Feb 27: Braces by Karim Benzema, Gareth Bale and Christian Ronaldo secured Real Madrid the quarter-finals at the first leg of last sixteen in Champions League Wednesday. Schalke needs a 7-0 victory in the Santiago Bernabeu Stadium to maintain their chances for the next round but after Wednesday's performance by the "Royal Blues" it is more than unlikely, Xinhua reported.
The hosts staged a courageous performance against Real and were almost rewarded but Benedikt Hoewede's header, following a corner, bounced just wide of the left post at the second minute. As the match progressed, Madrid were able to establish their rhythm and that is how it came that Karim Benzema opened the scoring from sharp angle following a back heel pass into path by Christian Ronaldo at the 13th minute.
Schalke had the golden chance to respond immediately but Ilker Casillas denied Julian Draxler's attempt from three metres to restore parity. The visitors cut a better figure in front of the host's danger zone as Gareth Bale danced through the defence to slot home, doubling the lead with 21 minutes into the match.
Real Madrid should have extended their two-goal tally but Schalke's goalkeeper Ralf Faehrmann denied a couple of scoring opportunities by Ronaldo before the break. After the restart Schalke started spirited but Kevin Prince Boateng's long-range effort remained the only noteworthy opportunity. Meanwhile, Real tripled the lead seven minutes into the second half through Ronaldo who finished his solo run with a curl to leave Faehrmann chanceless.
Ronaldo was again in the thick of actions five minutes later when he exchanged a one-two with Benzema, who extended the lead with a left-foot shot from the right side of the box. "Los Merengues" still were not done with the scoring as Bale utilised a through ball by Sergio Ramos to slot home the 5-0 lead into the bottom left corner at the 69th minute.
The fifth goal by the visitors took the wind out of Schalke's sails thus Ronaldo capitalised the chance to wrap up his brace at the 89th minute. At least Schalke were able to score their consolation in front of home crowd out of the blue when Klaas Jan Huntelaar volleyed home a pinpoint cross by Christian Fuchs to make it 6-1 on the scoreboards in the dying minutes of the game.
"We made too many mistakes. We played a courageous match until the 12th minute. At his level mistakes get punished," Schalke coach Jens Keller said. Real host Schalke in the Santiago Bernabeu Stadium on March 18.