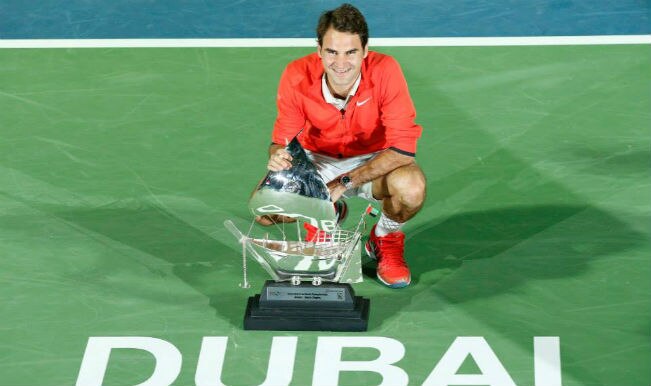 World no. 8 Roger Federer removed sixth seeded Czech player Tomas Berdych to take the match 3-6, 6-4, 6-3 on Saturday. The emphatic win helped him earn his record sixth Dubai Tennis Championships title and 78th career title, now only behind American tennis legends Jimmy Connors (109) and Ivan Lendl (94).
The Dubai Championships title is not only his first ATP title in 2014 but also his first since he bagged the only trophy of 2013 in Halle. The 32-year old also improved his head-to-head against Tomas Berdych 12-6 with this win. As for Berdych, the loss meant the end of his career's longest winning streak of 11 matches. With the Dubai Open title this year, he has now won at least one title every year in his career of 14 years, equaling the record of Ivan Lendl. 
Coming into the match, Berdych looked confident, and gave Federer quite a difficult time in the first set, and did not allow him to settle down. He capitalized on Federer's slow court movement and shaky service to take the first set.
In the tipsy-topsy second set Federer played the game he is known for, and rounded up the set by taking the final eight points.
The third and deciding set had its share of drama with several chance to break each other's serve, but the better of the two emerged victorious by holding the nerves at the crucial points. Federer served out to take the set, match and title with 6-3. With this win Federer avenged his last year's loss at the hands of Tomas Berdych in this very tournament.
It looks like Roger Federer seems to be enjoying, by giving his opponents a hope to win with the first set slip, but makes a complete turnaround to take the match in the next two. His finals match drew quite a similarity from his semi-finals match against Novak Djokovic, in which again he was a set deficit.
Roger Federer will next play at BNP Paribas Open held in Indian Wells where he has won the title record four times.
Also Watch Gallery For Dubai Open 2014 Presentation Ceremony