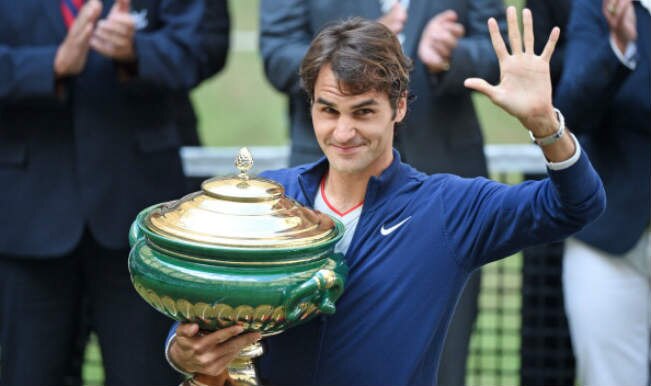 Berlin, June 15: Former world No.1 Roger Federer defeated Alejandro Falla in two sets to claim his seventh Halle title Sunday. Federer needed 89 minutes to crown himself with the seventh title in Halle, 7-6 (7-2), 7-6 (7-3), and his 79th ATP title overall. Besides that, it was Federer's seventh win in as many matches against Colombia's Falla, reports Xinhua.
Federer worked out a 5-3 lead in the first set but Falla fought back to force the Swiss into the tiebreak. Federer pulled away in the tiebreak after 2-2 to make five consecutive points, sealing the first set. The seven-time Wimbledon champion utilised his momentum to break Falla's first serve of the second set. Nevertheless, Falla responded immediately as he broke back.
Both players offered no more break-point opportunities so that the second set tiebreak had to bring the decision. Federer romped off with a 3-0 lead giving Falla no chance to turn things around. With the victory in Halle, Federer completed his grass court preparations for Wimbledon successfully.
"The main thing is that I have won. Alejandro returned well and if you lose long rallies against him it will be hard," Federer said. Falla added: "He is the king of the kings in tennis. I am very happy despite the defeat I had a great week here."