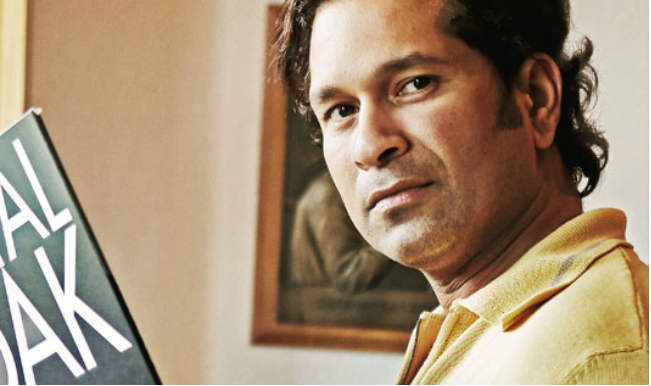 Master blaster Sachin Tendulkar has turned 41 years old and it has been 6 long months since the little master's retirement. He is one of those personalities whom people of all age groups and fans all around the world adore and love.  Such has been his command over the game that every time he steps into the cricket field, you still feel that there is some record somewhere that's about to tumble.
Over the years Sachin has not only had fans who love the game, he has his own set of high profile admirers. Here we take a look at what people said about the little master after being impressed by his feats.
During India's tour of Australia in 1992 Sachin was batting around 100 when Mark Taylor walked to Allan border, the then highest scorer in Test matches and said; "This little PR**CK is going to score more runs than you AB".
"At a party when Amitabh Bachchan stepped out of his car, people were standing in a queue to meet the great legend. But when Sachin entered the party, Bachchan sahab was the first person standing in the queue to meet him". – Shahrukh Khan
"If I have a son and he decides to play cricket, I will want him to bat like Sachin Tendulkar" – Brian Lara.
"On a train from Shimla to Delhi, there was a halt in one of the stations. The train stopped by for few minutes as usual. Sachin was nearing century, batting on 98.  The passengers, railway officials, everyone on the train waited for Sachin to complete the century. This Genius can stop time in India!" - Peter Roebuck
He has been in form longer than some of our guys have been alive – Daniel Vettori
Commit all your crimes when Sachin is batting. They will go unnoticed because even the Lord is watching – From a fan at the SCG
Test cricket is bloody hard work, especially when you've got Sachin batting with what looks like a three-metre-wide bat – Michael Hussey
I had to remind Gary Kirsten often that he was in the covers to field against Sachin not to applaud him- Hansie Cronje
We have had champions, we have had legends, but we have never had another Sachin Tendulkar and we never will – Time Magazine
Sachin Tendulkar, the Little Master, is so talented that wherever you're from, you can't help but admire him as he hits another century – UK Prime Minister David Cameron
I don't know cricket. I don't know how Sachin plays. But I still try to watch him playing. Because I want to know the reason why my country's economy goes 0.5% down when he is batting. -Barack Obama's tweet about Sachin
"We did not lose to a team called India. We lost to a man called Sachin" – Mark Taylor, during the test match in Chennai (1997)
"India me aap Prime Minister ko ek baar katghare me khada kar sakte hain. Par Sachin Tendulkar par ungli nahi utha Sakte." – Navjot Singh Sidhu
"I have seen God, he bats at no. 4 for India" – Matthew Hayden
"Sachin and I played 122 Test matches together. I never threatened his place in the team as a batsman. But I can tell you he sometimes threatened mine as a bowler"  - Anil Kumble
These were among the most famous quotes said about the legend that is Sachin Tendulkar. If this is not enough, there have been incidents when some huge names from different sports and business have also shown their admiration towards the "Bharat Ratna".
In a particular incident that took place during India's Tour to England in 2007, Daniel Radcliffe otherwise popularly known as Harry Potter himself stood in a long queue of fans to just get an autograph of the Cricketing legend.
David Beckham, once widely considered as the most popular sports person in the world himself couldn't resist but admire the way Sachin managed to handle his popularity in India.
Even though it has nearly been six months since the the "God of Cricket " retired, we still admire and believe in him. He is and always will be the greatest batsmen that our generation has seen. We salute you master and wish you a very happy birthday.