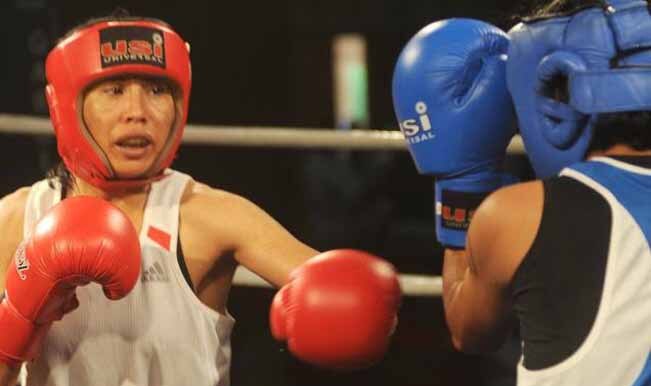 Sarita Devi, who won a silver medal in women's boxing event at 20th Commonwealth Games is ecstatic by her achievement and said that she has exceeded her own expectations as she was making a comeback to boxing after a gap of nearly 2 years. Speaking at the media interaction organized by Olympic Gold Quest (OGQ), the nonprofit sports organization that supports her, the Manipuri boxer said,"I did better than my expectation because before the Commonwealth Games I thought I wouldn't be able to play as my body wasn't used to it (rigor) after a two-year break. I somehow started training after the trial. I went to Glasgow and I got the confidence".
The 29 year old who was born in a very poor family had to work in fields to support her parents and had to collect firewood. She created history by becoming the first Indian woman boxer to win Commonwealth Games medal as the sport was first time introduced in Glasgow. Speaking on her achievement Sarita said, "It feels great to be known as the first Indian medalist. Ten-twenty years down the line when people talk about boxing, my name will always be discussed".
The visibly relieved boxer, who missed out on 2012 London Olympics, is a five time Asian champion and has been the world champion. She however, had to spend most of her boxing career in the shadow of more flamboyant M.C. Mary Kom.This time around with Mary Kom not qualifying for the games the focus was firmly on Sarita.
The 29 year old, who is a big fan of boxer Muhammad Ali, said she was confused with new scoring system. "The scoring system has changed and, in between, we were mentally disturbed. With the rule change, we didn't get much training. You get confused sometimes in between the bouts. Earlier, if you had a lead in the first round then you could play comfortably in the other rounds. Now it is not the case. Even if you lead in the first round, you have to have the lead till the last round. So I was confused a little bit," she said.
Sarita was howeververy happy with her CWG medal. "When I did not qualify for London Games, I thought of giving up. My husband, family and friends egged me on to continue. They supported me and this medal is for everyone who believed in me," She added.
The boxer had special mention for OGQ physio Kiran who helped her to recover from hand injury 10 days prior to games and was there for her help throughout the tournament. She said, "Kiran took time off for me, despite being the physio for the badminton team, and thanks to him I could reach the final. I don't think I would have played in the final without OGQ. Kiran played a big role. The injury would have ruined my dream but I was looked after very well."
The pugilist, however felt she could have fared better in final had she got some more time to recover after her semifinal match."After playing four bouts continuously I didn't get time to recover for the final. After the semi-final bout, it was midnight and then the next day I had to get up at 6 am for training and if you have a bout early in the afternoon then you don't get time for recovery. If I had got time till evening, I could have hit better. After the first round, my body didn't allow it. My legs were not moving much and I was feeling tightness in my legs," the boxer said.
Sarita after winning the CWG medal is now concentrating on 2016 Rio Olympics.