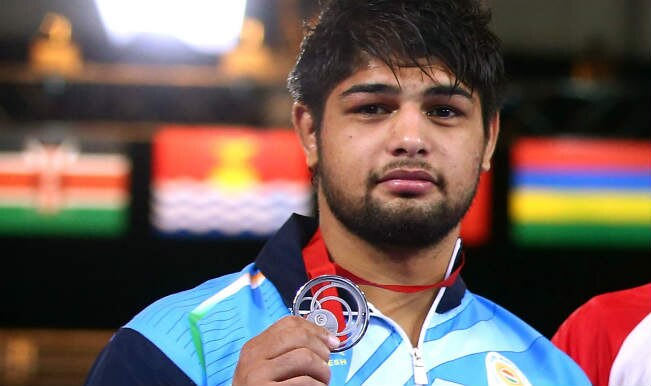 Indian wrestler Satywart Kadian would be ruing with the disappointing result in his gold medal match. Settling down for the silver medal, Kadian lost his men's freestyle 97 kg final to Canada's Arjun Gill in the 2014 Commonwealth Games at the SECC Hall here Wednesday. Satywart Kadian who dominated the first period of the event with a 2-0 lead lost his way in the second period. With both the player sweating heavily in the SECC Hall, Kadian was given penalty and a point to Arjun who made a come back to trail 3-4 in the start of second period immediately.
With one more good move both the wrestlers were tied at 4-4 after the end of the bout but Gill was declared the winner since he had a take down. It was the fourth silver for India during the day from wrestling as three other wrestlers Bajrang, Lalita and Sakshi Malik lost their respective matches on Day 7 of the Commonwealth Games. Today's results was far more different than Day 6 magnificent golden fest.
The bronze medals went to England's Leon Rattigan and New Zealand's Sam Belkin.
Get Commonwealth Games 2014 Complete Schedule of Indian Players Here