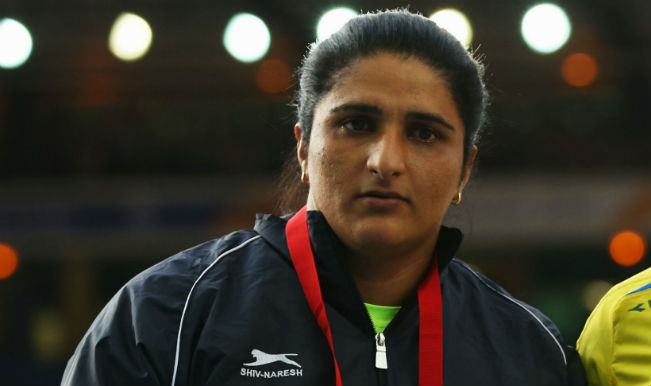 Discus thrower Seema Punia gave India a reason to celebrate as she bagged the silver medal in the Women's Discus Throw Final taking place at the Hampden Park Stadium. Started off with a low 53.64m, Seema threw her best of 61.61m in her fifth attempt to take the silver medal. Although this was her best throw of the competition she ended up being a distant 3rd as Daniel finished up with a throw of 64.39, a throw almost similar to men gild medal winner Vikas Gowda of India. Daniel Samuels also threw a 61.72m in her sixth attempt.
If the Commonwealth Games 2014 was great for Seema Punia, simillar could not be said about her Indian compatriot and defending champion Krishna Poonia who had a dismal outing in the Women's Discus Throw Final. The star Indian discus thrower Krishna Punia couldn't make a successful defense to her title as she threw her terrible best of 57.84 metres to finish fifth in the ranking.
Seema Punia's silver medal is second medal in athletics after Vijay Gowda bagged gold medal in Men's Discus Throw on Thursady.
Get Commonwealth Games 2014 Complete Schedule of Indian Players Here