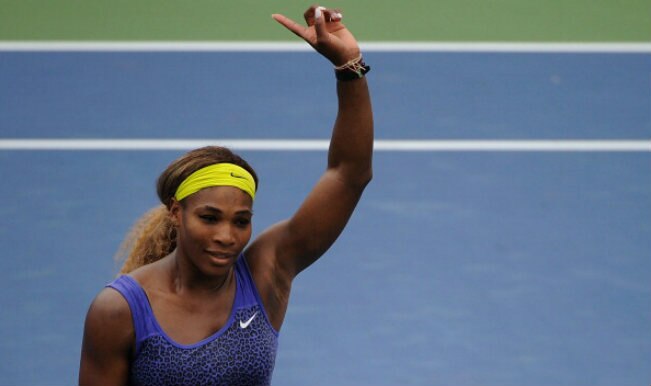 CINCINNATI, August 16: World number one Serena Williams battled past Caroline Wozniacki 2-6, 6-2, 6-4 on Saturday and reach the final of the to reach the final of the Western & Southern Open at the Cincinnati hardcourt tournament. The World No. 1 and top seed here at Cincinnati, Serena Williams was made to work hard by the Danish Wozniacki. Williams bounced back from losing her first set of the tournament to beat the 12th-seeded Wozniacki.
Serena Williams who is aiming to win her first title at Cincinnati had now beaten Caroline Wozniacki for the eighth time in nine career matches. The semi-finals victory also marked the second time in a fortnight that Williams rallied from a set down to defeat Wozniacki, after her win over the Dane in the Montreal quarter-finals last week.
Serena has never won the Western & Southern Open at the Cincinnati hardcourt tournament title and would now be looking to go all way after being finalist in five previous appearances. She lost a third-set tiebreaker to Victoria Azarenka last year.
In her fifth final of the year, the American superstar will face either fifth-seeded Maria Sharapova or ninth-seeded Ana Ivanovic in Sunday's final of the US Open tune-up event.
Williams, playing a third tournament in a row for the first time since late 2007, improved her 2014 match record to 37-6.The 32-year-old said that she needed a set to find her game after a slow start in a match which featured 15 breaks of serve, seven of them in the final set.
"I was feeling tired today, so in the second set I just told myself to hit big serves," said Williams, who followed up her win in Stanford by reaching the semi-finals last week at Montreal, where she lost to her sister Venus. "I gave all that I had in me today," she said. "I didn't expect to do this well over the summer. I knew I needed matches so I entered three tournaments. But I'm still here."
Wozniacki came to the match after beating two top 10 players in a row — Angelique Kerber and Agnieszka Radwanska — for first time since the 2010 WTA Finals. Wozniacki, who lost to Williams in three sets in the Montreal quarter-finals, won the opening set in half an hour despite double-faulting away a service game.
But Williams stepped up a gear in the second, helped to an early break by another of Wozniacki's double faults. The third was a roller-coaster for both players, who are good friends off the court. After five straight breaks of serve, Williams finally stopped as she held for a 4-2 lead.
She secured another break for 5-2 but then had to face a Wozniacki fightback, with the former number one reaching 4-5. Williams finally closed it out in the next game after a game later after an hour and three-quarters. She finished with seven aces and benefitted from eight Wozniacki double faults.
"I knew I had to return better, and today I was able to do that," Williams said. "I actually felt better than in my other matches."
Russian superstar Sharapova, who leads Ivanovic 8-3 in their career series, was not expecting an easy time on court against the Serb. "The tournament is still not done," the French Open champion said. "I certainly hope to raise my level and have a much better first set. "It can't be any worse," she added in reference to her slow start against Simona Halep in the quarter-finals. "I'm just happy to be in that stage."