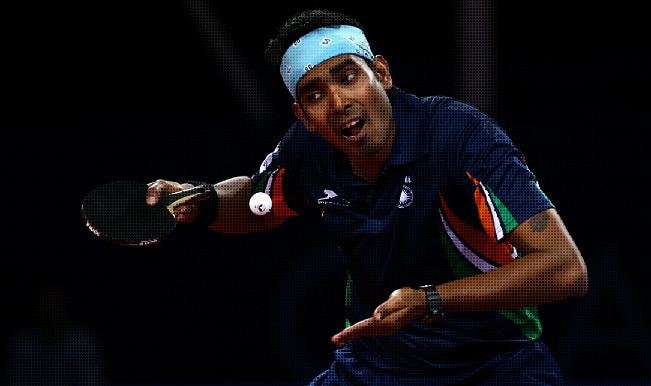 Indian ace paddler, Achanta Sharath Kamal has entered the semifinals of men's doubles Table Tennis event at the 20th Commonwealth Games in Glasgow. The Indian doubles pair of Sharath Kamal and Anthony Arputharaj defeated the English duo of D. Reed and S. Walker in the 3rd Quarterfinals. It was a hard fought match which the Indians won 12-10, 11-6, 7-11, 11-8 to advance to the Semifinals of the 2014 CWG. With this win, Sharath is just one step away from winning a medal in Glasgow. Earlier Sharath Kamal and Shamini Kumaresan lost their mixed doubles quarterfinal match against Reed and Kelly Sibley 7-11, 9-11, 11-5, 14-12, 4-11.
Let's now have a look at the 7 reasons why the whole of India is cheering for the ace paddler to win a medal in CWG –
1. Commonwealth Games
This is the third CWG that Sharath is competing in. He has a great record in these games and has won 2 gold medals in 2006 Melbourne games in men's singles and team events. He repeated his heroics in 2010 games four year later when he won gold in men's doubles and a bronze in team's event. He would be looking to repeat his men's double performance here in Scotland.
2. Olympics
Kamal has represented India in two Olympics. He represented the country in 2004 Athens Olympics in Greece and 2008 Beijing Olympics in China. He has the distinction of being the only Indian men's paddler to be selected for Beijing games.
3. Commonwealth Championship
The 32 year old won the Commonwealth Table Tennis championship in 2004. The tournament was held at Kuala Lumpur, Malaysia.
4. US Open Championship
This right-handed Table Tennis player from Chennai won the US Open Table Tennis men's championship in July 2010. This competition was held at Grand Rapids, Michigan.
5. Pyongyong Invitational Tournament
Sharath won the 21st edition of the tournament held at Pyongyong, North Korea in August 2007. He became the first Indian to win this competition.
6. Award
For his consistent topnotch performance and for bringing laurels for the country in Table Tennis, the country's top paddler was conferred with Arjuna Award in 2004.
7. Best Performance
Kamal's best performance on the world circuit came up in year 2007, when he defeated world number 19, Lee Jung Woo in the Japan Pro Tour. Following this victory he reached his best ranking of world number 73. He is currently ranked 40th in the world rankings as of June 2014.