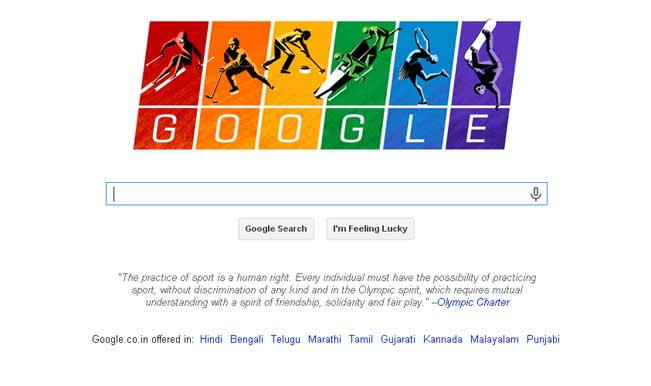 XXII Olympic Winter Games is to be conducted from 7th-23rd February.
As the Sochi 2014 Winter Olympics commences at 7th February, Google takes jibe at Russia's anti-gay laws which brought the cold continent in the firing lines of media, several groups and organizations around the world. Google in it unique way used its doodle to remind Russia of the Olympic Charter which is the set of rules laid down regarding the conduct of the prestigious event around the world. The quote below the Google doodle is very striking and apt going the number of controversies around the Games.
Looks like Google is very clear on its stand as the usage of the Rainbow flag as the background is deserves to be applauded. The quote below the flag read-
"The practice of sport is a human right. Every individual must have the possibility of practicing sport, without discrimination of any kind and in the Olympic spirit, which requires mutual understanding with a spirit of friendship, solidarity and fair play." –Olympic Charter
Russia came under scanner when they passed a law which bans the distribution of "propaganda of non-traditional sexual relations" to minors. Several famous names from the sports, showbiz and media background criticized and boycotted the event.
All eyes will be on the nation as it conducts the 22nd Winter Olympics amidst all the controversies, boycotts and the security threats.