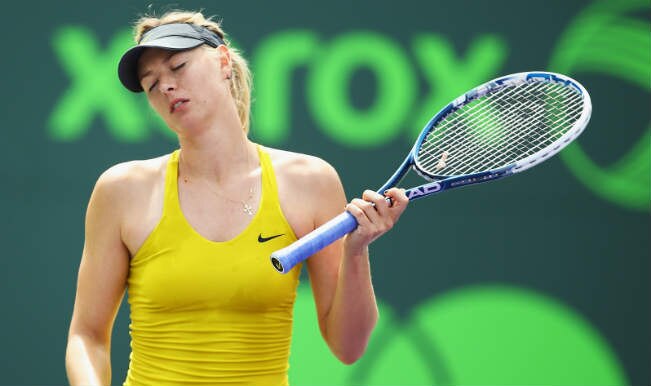 Maria Sharapova will have to wait for another year to get her hands on the Sony Open Trophy as she bowed down humbly to her nemesis and World No. 1 Serena Williams in the semi-finals of Sony Open Tennis, 2014. With this loss at the hands of Serena Williams, Sharapova would find herself in rather infamous record holder of losing to the same opponent for 15 successive times. Playing at Key Biscayne, Serena Williams rather got off to a slow start but found in the momentum quickly to dispatch Sharapova in straight sets 6-4, 6-3. (Also Read: Maria Sharapova – A model on the court or a player off the ramp?)
American Serena Williams has won this trophy the maximum number of six times and would be looking for the seventh time glory at Miami. Serena Williams gave one of the most interesting quotes before the start of the match when she said how much she loved playing against Maria Sharapova. So did she really mean the love for the Russian and her game or was she mocking the fact that she will be an eventual winner against a no-match Sharapova? Whatever the case may be World No. 7 Maria Sharapova has not been able to crack the mysterious case of Serena Williams since her last win in 2004 during WTA Championships.
Maria Sharapova, 26, is the biggest ambassador of this game for her unmatched global reach but her continuous slump to the same opponent does more damage to her iconic figure than she can think of. She last won the French Open in 2012 and since then has not much to her credit. She would need to lift her game in general and be a much better player against Serena Williams for her much devoted fans worldwide.
Serena Williams on the other hand is seen enjoying the career post 30 and this revival is best for the growth of tennis. After a long time in the history of women's singles tennis come has the period of such dominance by an individual. In the men's singles tennis, they have been supremely dominated by Roger Federer, Rafael Nadal claiming three of four grand slams in a year.
Serena Williams is undoubtedly the top ranked player in the world.