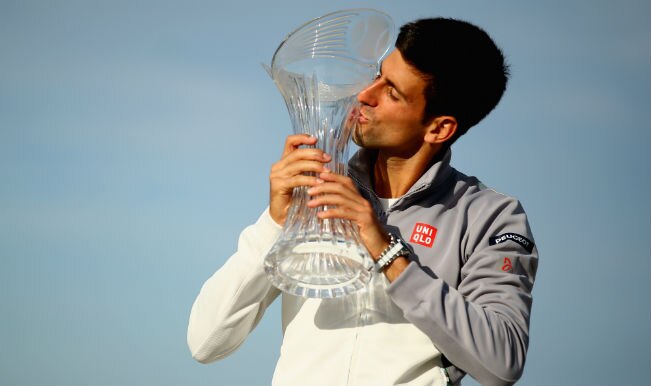 Novak Djokovic might not be your one of the desired models to watch him swaying away on the beach with the winner's trophy but the second seeded Serbian was at his best when he defeated World. No. 1 Rafael Nadal in straight sets to claim his fourth Sony Open Tennis. Playing to the packed spectators at the Crandon Park Tennis Center, the finals was more of one man show – Novak Djokovic, who was sensational with his game to beat Nadal 6-3, 6-3.
The spectators expected a tough nail-biting final encounter between the two finalists at the Crandon Park, were left to witness a one sided show. Both Nadal and Djokovic got walk-over in their semi-finals match with their respective opponents pulling out. But Nadal did not look in shape right from the start of the match with Djokovic putting the pressure on his opponent.
In what could be called the clinical performance by Novak Djokovic, dispatched Nadal with his half-volleys, shot perfect to the core and more importantly timely conversion of break points. In the opening set Nadal could not capitalize on the break point chances while Djokovic quickly broke Nadal to go 4-2 up and held his service well.
In the matter of time, Novak won the last point and fall back on the court to celebrate his fourth title. With this win he also becomes second player after Roger Federer to win back-to-back Master Series title at Indian Wells and Miami in one season twice. He had achieved this feat back in 2011.
He defeated Roger Federer two weeks back to win the BNP Paribas Open at the Indian Wells. But as for Nadal, he faced the heartbreak of not winning this hard-court title at the Key Biscayne for the fourth time. He had lost to Novak Djokovic before in 2011 as well.