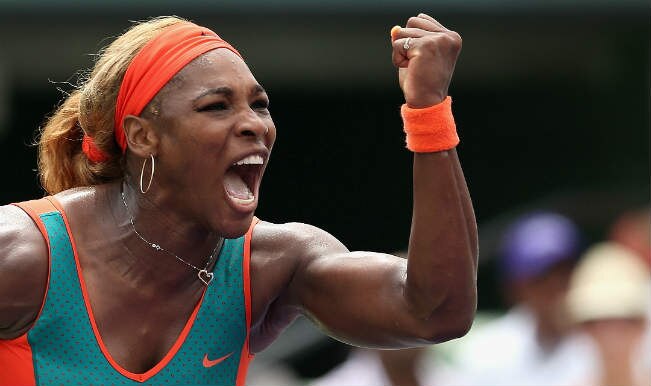 Serena Williams does it again, as she wins the last point of the match and tournament to take Sony Open Tennis title home for the seventh time. Defending her Miami title, Serena Williams had it easy against the rising challenge in form of World No. 2 Li Na. She defeated the Chinese ace in straight sets 7-5, 6-1. With this loss, Li Na went down to Serena Williams for the tenth consecutive time.
Again off to a slow start against Li Na, top seeded Serena Williams looked to be on the back foot. But with the way match progressed, any thought of having an alternative winner than Serena, evaporated quickly just like the weather conditions in Miami.
Li Na making good use of Serena's slow start, flagged off the first set on a positive note to race ahead leading 5-2. But she squandered the chances of taking the first set on her service game, when she fell behind 0-40, which turned out to be the turning point of the first set and match as well, with Serena breaking and taking the point. Serena later went on to win the next four games to take the first set 7-5.
The second set looked more of formality for Serena Williams, who found the hold over match and Li Na. She allowed Li Na with just one game of the set, taking the second set and title 6-1. You cannot blame Li Na of playing bad shots, or defensive attitude, but it was the sheer brilliance of Serena Williams that proved tough for Li Na.
On Day 13 of the Sony Open Tennis, all eyes were fixed on the two finalists as they stepped on the court at Key Biscayne to take Butch Buchholz Trophy home. The match living up-to the expectations of any match that would feature 1-seed vs the 2-seed, saw American Serena Williams and Li Na of China a perfect end to this year's finals in Miami. But one could not help but notice the vast difference in the level of the two players, with the way Serena dusted Li Na over the period of time.
Many would see Serena Williams invincibility at the WTA circuit as a new concept for the ladies singles. Such has been the feat in the modern history of men's singles tennis with the era of Roger Federer and Rafael Nadal but one-sided affair in the women's singles is surprisingly welcomed.
Serena Williams is definitely the player to beat and compete with at the WTA tour.