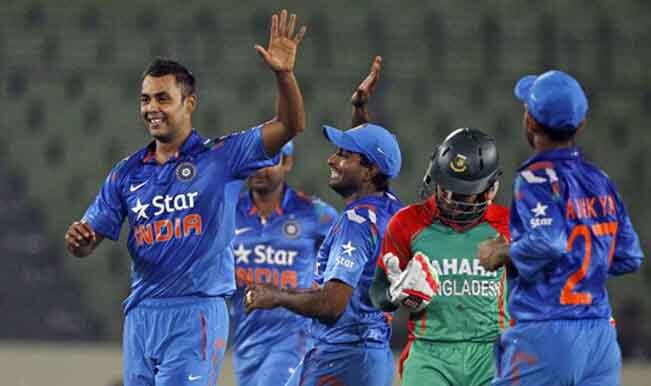 Only 105 runs on the board and a lot at stake, India going into the break were almost out of the game. Bangladesh's debutant fast bowler Taskin Ahmed was wrecker-in-chief as he ran through Indian line-up.Indiawere dismissed for their lowest ODI total in recent past and their all-time low against Bangladesh.
The conditions at Dhaka were assisting seam bowlers and batsmen had no idea how to survive.The conditions remained such throughout the match which was reduced to 41-overs after monsoon clouds showed their presence in the Dhaka. Inside 24 overs India were out for a dismal score.
All done, India needed either a reckless batting by Bangladeshi batsmen or an astonishing performance from bowlers to seal the series. To start with Tamim Iqbal did exactly what his camp would not have wanted him to, throwing his wicket away. But there was something in the pitch and batsmen had to toil hard to get some runs.
Mohit Sharma picked wickets early on to keep India in the hunt. Bangladesh Captain Mushfiqur Rahim and another debutant Mithun Ali pushed their team close to victory, but not long before Stuart Binny was handed the ball. Binny who was not in the winning playing XI in 1st ODI was drafted in place of Parvez Rasool, who was impressive in his debut match.
Captain Suresh Raina had earlier mentioned at the toss that it might seam a bit later and that is why Binny was brought in the team.He introduced the medium pacer in 9th over and signs of swing were clearly visible as he bowled a maiden over to Mithun Ali. In his second over Binny struck and had Bangladesh Captain back in the hutch for his second maiden in a row,Mushfiqur was his first international wicket and more were to follow.
Binny then in his third over further dented Bangladesh when he bagged two consecutive wicketsand distanced them from victory. In fourth over of his spell Binny had his fourth scalp before picking Bangladesh's last two wickets in his fifth over to take home the best bowling figures by an Indian bowler in ODI's which read 4.4-2-4-6.
It surely was a tailor-made pitch and conditions for a bowler like Stuart Binny, though he is not express fast but as a seam bowler he is pretty handy and does his job well. There was need for Binny to exploit the conditions as he is part of the squad which will be in England next month. His performance will come as a breather for team as he gives them an extra and useful option.