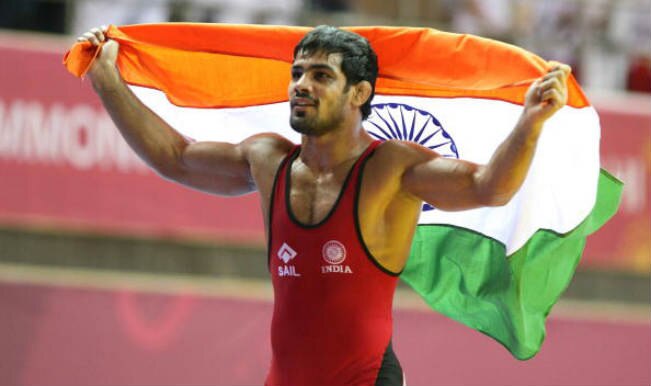 The 2014 Commonwealth Games has just concluded and our athletes have returned home to rousing receptions. Some of them did the country proud by winning medals while the others got laurels for the nation by their sheer determination and fighting spirits. There is a lot of hard work, dedication, training and effort that goes into winning a medal at an International arena.
Let's now have a look at things which probably you didn't know about the 5 top Indian athletes at 2014 CWG –
Sushil Kumar –The ace wrestler took to sport at the age of 14 at Chhatrasal Stadium's wrestling school. He was inspired to take up the sport by his father who gave up his wrestling career to work on buses in order to take care of family. Sushil who trains six days a week and is a vegetarian had to go through extreme hardships at the beginning of his career. He slept in a dormitory in his academy at Chhatrasal Stadium with 20 other wrestlers when he first joined in. Sushil won gold for India in men's wrestling at 20th CWG.
Parupalli Kashyap – The badminton sensation loves Tennis and Football alongside Badminton. Kashyap, who started playing badminton when he was eleven yearsold idolizes Pullela Gopichand, Lionel Messi and Roger Federer. He suffers from Asthma and each year he has to get a Therapeutic Use Exemption certificate from the World Anti-Doping Agency commonly known as WADA. In his own words he once confessed that life has been extremely tough for him and he may have to live with Asthma for the rest of his life. Parupalli Kashyap won a gold medal for India in men's singles event at Glasgow.
Vijender Singh – The 28 year champion boxer who hails from Haryana, India, took to sport when he was only 14. He was inspired by brother Manoj and his heroes are legendary boxersMike Tyson and Oscar Hoya. He has the distinction of being the first Indian boxer to take part in 3 Olympic Games on trot. Apart from boxing he has been a model, television show host and a film actor. He made his Bollywood debut with film 'Fugly' which was co-produced by superstar Akshay Kumar. The worst phase in Vijender's life came when the car used by his wife was found at the drug bust scene in Punjab. He was later cleared of any crime or involvement in the drug racket. Vijender won a silver medal in 2014 CWG.
Vikas Gowda – The 31 year athlete started in long jump when he was only 11 years old. However, it was his fatherShive, who compelled him to throwing. His dad, who coached the Indian Olympic track team in 1988, always wanted Vikas to take up athletics and represent India in Olympics. He exhausted all his savings to help his songet trained. Vikas was born in Mysore, India, but migrated to US in 1989. He grew up in Maryland, United States. VikasGowda won a gold in men's Discus throw at Glasgow.
Yogeshwar Dutt – The 31 year old wrestling sensation took to sport at a young age of eight. Yogeshwar, who comes from a very modest family background idolizes Balraj Pehlwan and trains for nearly six hours each day.Dutt is a perfectionist and never misses his training routine at the KarnalPolice Academy. The worst phase in his career came when he was not able to compete at the Golden Grand Prix in Baku,Azerbaijan in 2013 due to monetary disputes between the Wrestling Federation of India (WFI) and the International Federation of Associated Wrestling Styles (FILA). He came to know about the dispute after arriving at Baku. The incident left him extremely disappointed and distressed. Yogeshwar Dutt won a gold medal in men's 65 kg Free Style wrestling in 2014 CWG.