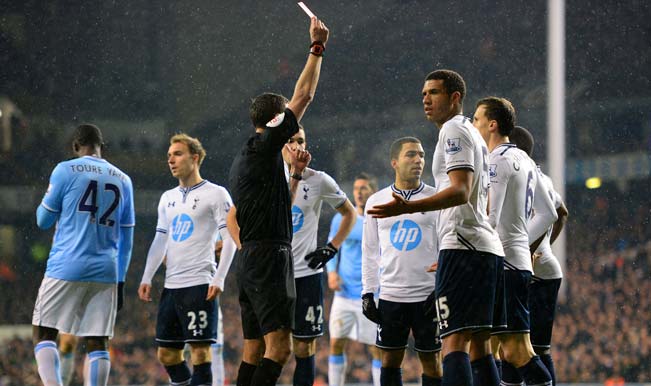 The games of Matchday 23 on Wednesday saw Chelsea miss a golden opportunity to capitalize on Arsenal's draw with Southampton on Tuesday, while new leaders Manchester City demolished Tottenham away from home although with a little help from the referee. Here are a few things we learned from the matches on Wednesday night: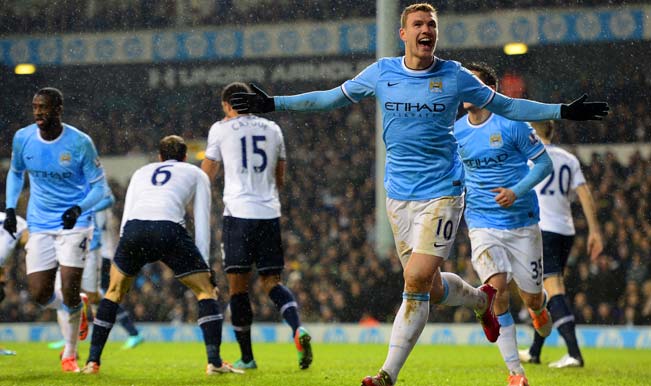 Tottenham Vs Manchester City: Manchester City jumped above Arsenal by one point to the top of the Premier League table on Wednesday with a devastating 5-1 victory over Tottenham Hotspur at White Hart Lane.
1 – After watching Manchester United receive the benefit of the doubt when it came to most calls over the years, Manchester City have recently become the favourites of the Premier League's referees. Michael Dawson saw a potential equalizer for Tottenham disallowed for offside in the first half. Referee Andre Marriner also awarded a penalty to Man City and showed a red card to Danny Rose for his tackle on Edin Dzeko only after a chat with one of his assistants. Highlights show that the left-back indeed got the ball.
2 – Manchester City are on course to win the English Premier League having made it eight consecutive league wins. They have also stayed unbeaten for two and a half months in all competitions. City have cover for every position and with Manuel Pellegrini at the helm, they won't even miss Sergio Aguero who limped out with a hamstring problem.
3 – Vincent Kompany is Manchester City's most important player. The Belgian defender's return from injury since December has just sprung back life into the new leaders of the Premier League. The defender's towering presence at the back four will prove crucial at the end of the season.
4 – Tottenham have no time to dwell on the defeat and must buy a new striker who could cover for Emanuelle Adebayor. The Togolese is a very inconsistent player and after Jermaine Defoe was sold off, only a struggling Roberto Soldado is available.
5 – Tottenham have just made the fight for the 4th spot very interesting. With Liverpool, Everton and Manchester United all vying for the spot, Tottenham's loss is everybody's gain.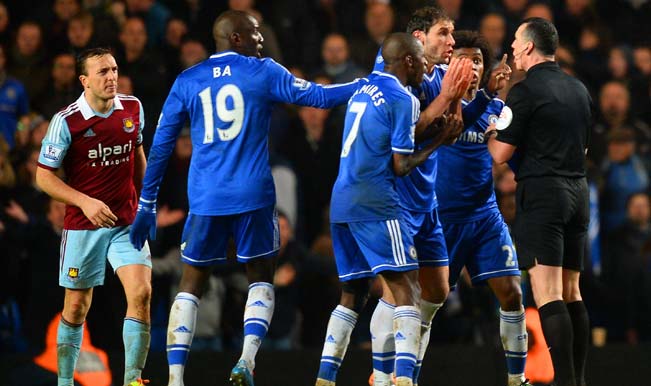 Chelsea Vs West Ham: Chelsea were made to rue missed chances in a 0-0 stalemate as they struggled against a stubborn West Ham at Stamford Bridge. The same West Ham which lost 9-0 on aggregate in the Capital One Cup semi-final against Man City.
1 – Jose Mourinho is a bitter loser when small teams play party poopers. Even though the Portuguese manager has applauded some who have managed to get something against his sides in the past, he just can't digest how frustrating the meeting was against West Ham. Mourinho blamed Sam Allardyce for his negative tactics and said West Ham played football from the 19th century.
2 – What's the Mata with Chelsea's finishing? Chelsea need help up-front and can't always rely on a goal from a brilliant Eden Hazard or Oscar from out of nowhere. Chelsea had a total of 39 shots against West Ham.
3 – Sam Allardyce must be given credit for having helped West Ham grab a vital away point against a top 4 side. This comes at a point when West Ham are lying 18th in the relegation zone. Hence it was a gutsy display.
Other results:
Aston Villa 4:3 West Brom
Sunderland 1:0 Stoke City