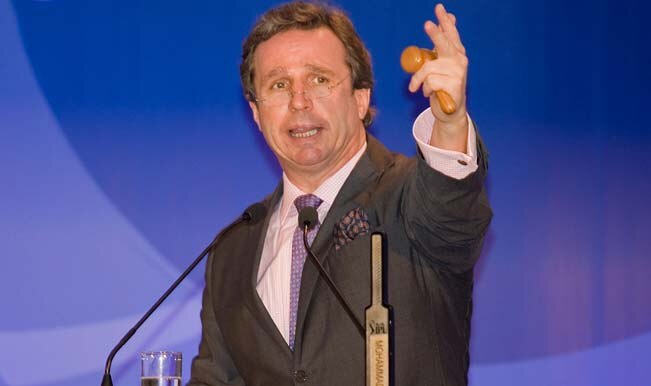 By Shikhar Jiwrajka
The Indian Premier League Season 7 (IPL 7) kicks off with the auction. A total of 514 players will go under the hammer. There are many exciting players on the IPL 2014 auction list to watch out for. We bring you the top 5 players to watch out for during these auctions.
Corey Anderson
The young New Zealand all-rounder has been in the limelight for the upcoming IPL 7 auctions. Touted as the hottest pick this year, the Kiwi player is a hard hitting left handed batsmen and a left arm pacer. His record breaking 36-ball-100 is sure on every franchise's mind.
David Warner
Another left-hander on the list, the Aussie player is in red hot form of late. Rejuvenated after drubbing the England team in the Ashes, Warner would sure like to extend his purple patch. Moreover, his records in previous editions of IPL and Champions League Twenty20 are enough to make him a hot favourite for the any franchise.
Mitchell Johnson
The chief tormentor of England team this Ashes series, Mitchell Johnson has been bowling at a brute pace after making his comeback. He played his last season for Mumbai Indians. Already in red hot form, Johnson is literally spewing venom while bowling. He would be an automatic choice for any of the eight IPL 7 franchises participating in the IPL 2014 auction.
Aaron Finch
Aaron Finch is in good form of late. Giving explosive starts to his country on a regular basis has upped his stature as a dynamic opening batsman. Finch has the highest T20 international score against his name when he scored a blazing 156 against the Poms last year. Adding his previous experiences with the PWI team, Finch would be a worthy buy in the IPL 2014 auction.
Brendon McCullum
His brutal, calm and brilliant style of batting is a treat to watch. A striking form in the ongoing series with India, McCullum provides stability in the batting line-up. Add to it his wicket-keeping skills he surely makes out a huge draw for himself in the IPL 2014 auction.
Richard Madley, who has been hosting these auctions since the inaugural season in 2008, will conduct the proceedings at the IPL 7 as well.