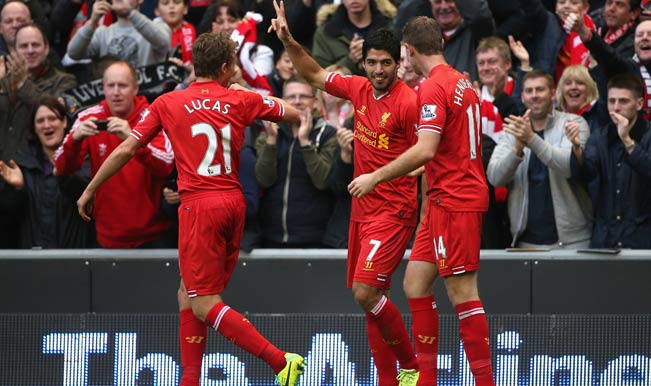 There's only one thing we learned on Sunday, which was Liverpool FC were solid against a woeful Tottenham side in their backyard on Sunday. Liverpool FC won 5-0 at White Hart Lane, home to one of the traditionally recognised big teams of the Premier League. The Merseyside giants played a young side under the watchful eyes of England manager Roy Hodgson. John Flanagan and Raheem Sterling took their opportunity and impressed in the game with each grabbing a goal to finish Tottenham off.
The meeting between Tottenham and Liverpool was crucial for both sides in what seemed like André Villas-Boas' last match to turn things around for Tottenham and Brendan Rodgers' credentials to push on for the title. The Portuguese failed miserably. The Northern Irishman passed with flying colours.
Villas-Boas was sacked on Monday morning for failing to make a mark on a campaign that saw them without their hero –  Gareth Bale. The Welsh winger's move to Real Madrid has brought only problems for the London side that still miss a main-man. Villas-Boas was given a huge transfer kitty to spend on players he wanted and he made many signings who haven't yet gelled. Hence the Portuguese was fired from the job by Chairman Daniel Levy for embarrassing his team. England has been impatient with him.
One club's demise is another club's fortune as Liverpool continued their impressive run to reach the second spot in the league. The marvelous result put them only two points behind leaders Arsenal who were annihilated by Manchester City on Saturday.
All eyes were on Luis Suarez in the match as he had a point to prove. The striker who was made captain by manager Brendan Rodgers due to Steven Gerrard's absence, seemed unfazed by the huge responsibility. Suarez played to no end and brought out the best in every player. He scored two goals and assisted Sterling and Henderson in getting theirs. His commanding performance only brings confidence in further games to come. Liverpool fans are enjoying the Uruguayan while he's still with them.
The main talking point was Jordan Henderson's contribution in Tottenham's destruction. The 23 year-old who is often given slack by his own fans for running for no good reason was immense against Spurs. It was the Englishman's perseverance and flick which allowed Suarez to take the ball into his stride and finish it off with his left foot to score the opener. It just proves that one must never write off a workhorse.
The defeat piled more misery into the hopes of Tottenham's fight for a Champions League place. There are no clear answers for the Daniel Levy who will be in search of a manager who will have a side that have to improve their chemistry. Whereas Liverpool are well in the chase for their maiden Premier League title. With no European commitments in line for them this season, Liverpool have to grab all opportunities to make that happen.