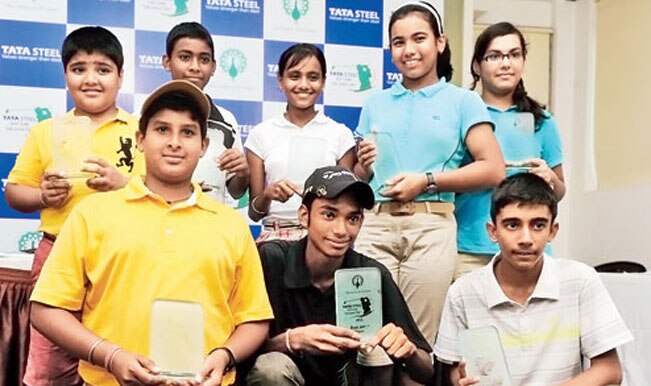 Kolkata, June 12 : Overnight leader Udayjit Bhalotia rallied on to capture his maiden title on the Tata Steel IGU East Zone Junior Sub-Junior Tour when he won the Tata Steel Tolly Juniors Cup here today.Son of former top India professional Indrajit, Udyajit finished with a nine-stroke lead over Sharif Khan in the top category (A&B).
Bibek Sardar was the winner in category B with a total score of 160 while Devansh Chadha was the runner up finishing just a stroke behind.
Hassan Rahman finished third at 165. In category C, Abhikanks Basu with a score of 169 emerged as the champion followed by Rajib Ali and Manav Bansal 187 and 189 respectively. Arav Shanghavi was the winner in category D with a total of 161, with Kaushal Bagrodia finishing as the runner-up at 170 while Pranshu Poddar ended up third with a score of 173.
In category E, the nine-hole tournament for the juniors was won by Garv Lakhmani who shot an 89 followed by Gurmehr Bindraand Mitreya Milan in the second and third place respectively.In girls top category, Susnata Deb wore the crown of the champion while Marshneil Prasad and Mamta Saraogi finished second and third respectively. Yashodhara Bhalotia won in category B while in catgeory C the honours went to Aahana Kapoor.