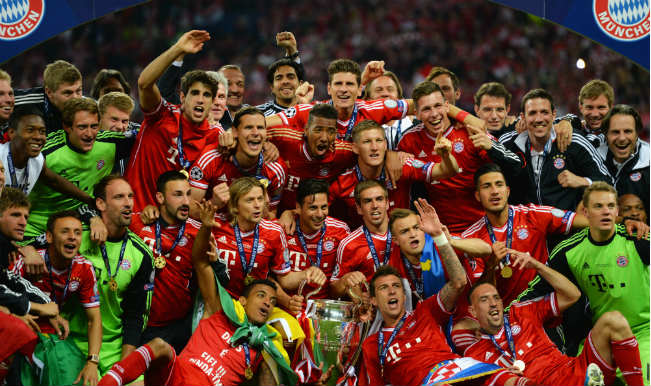 The UEFA Champions League 2014 is approaching its end! After whittling itself from 16 teams to eight, we have only four teams who are fighting it out to reach the Final to be played at the Estádio da Luz in Lisbon, Portugal.
Towards the Final, in the knock-out phase, teams played against each other over two legs on a home-and-away basis.
The semi-final first legs were played on April 23 and April 24, and the second legs will be played on April 30 and May 1. Chelsea, Atletico Madrid, Real Madrid and holders Bayern Munich are the teams left vying for cup.
Champions League Round of 16 Results (1st Leg)
| | | |
| --- | --- | --- |
| Home Team | Score | Away Team |
| Bayer Leverkusen | 0-4 | Paris Saint-Germain |
| Manchester City | | Barcelona |
| AC Milan | | Atletico Madrid |
| Arsenal | 0-2 | Bayern Munich |
| Zenit St. Petersburg | 2-4 | Borussia Dortmund |
| Olympiakos | | Manchester United |
| Galatasaray | | Chelsea |
| Schalke 04 | | Real Madrid |
Champions League Round of 16 Results (2nd Leg):
| | | |
| --- | --- | --- |
| Home Team | Score | Away Team |
| Atletico Madrid | | AC Milan |
| Bayern Munich | 1-1 | Arsenal |
| Paris Saint-Germain | | Bayer Leverkusen |
| Barcelona | | Manchester City |
| Chelsea | | Galatasaray |
| Real Madrid | | Schalke 04 |
| Borussia Dortmund | 1-2 | Zenit St. Petersburg |
| Manchester United | | Olympiakos |
Champions League quarter-finals Results (1st leg):
| | | |
| --- | --- | --- |
| Home Team | Score | Away Team |
| Barcelona | | Atletico Madrid |
| Manchester United | | Bayern Munich |
| Real Madrid | | Borussia Dortmund |
| Paris Saint-Germain | | Chelsea |
Champions League quarter-finals Results (2nd leg):
| | | |
| --- | --- | --- |
| Home Team | Score | Away Team |
| Borussia Dortmund | 2-0 | Real Madrid |
| Chelsea | | Paris Saint-Germain |
| Atletico Madrid | 1-0 | Barcelona |
| Bayern Munich | | Manchester United |
Champions League semi-finals (1st leg):
| | | |
| --- | --- | --- |
| Home Team | Score | Away Team |
| Atletico Madrid | | Chelsea |
| Real Madrid | | Bayern Munich |
Champions League semi-finals (2nd leg):
| | | |
| --- | --- | --- |
| Home Team | Date/Score | Away Team |
| Bayern Munich | | Real Madrid |
| Chelsea | May 1 | Atletico Madrid |