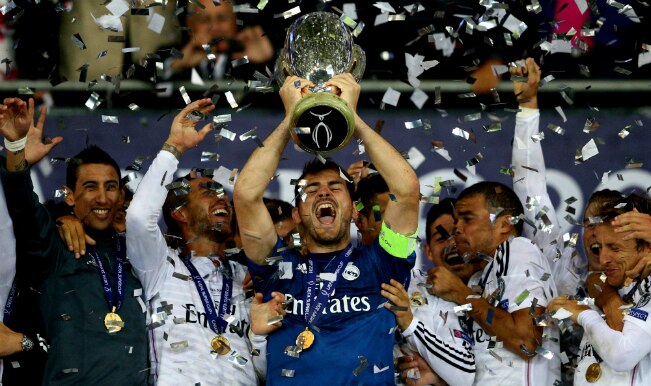 Cristiano Ronaldo netted twice as Real Madrid trumped Sevilla 2-0 against Sevilla at the Cardiff City Stadium in the UEFA Super Cup on Tuesday. The two goals were scored on either side of half-time with the first goal being assisted by Gareth Bale. James Rodriguez and Toni Kroos both made their debuts in the Real Madrid shirt to make it a memorable day for Los Blancos.
Ronaldo first scored from a prime cross by Bale that found the Portuguese in the perfect position to poach a goal behind the Sevilla Keeper. The second goal was a perfect reflection of Ronaldo's all-round scoring ability as he collected a pass from Ronaldo and netted a bullet past the hapless keeper. The keeper had redemption later when he stopped Rodriguez's shot to keep the score as it is.
"It was my first match so I was a bit unsure what would happen but I felt good and the team helped me. I scored the first goal which gave me confidence," said Ronaldo to UEFA's website.
Sergio Ramos, though, refused to rest on the laurels and spoke of the desire to win more trophies for the club, especially defending the UEFA Champions League crown.
"You always need ambitions and optimism. We must keep on winning things so that tomorrow our name is still up there and we add more important trophies. The Champions League is a competition which has always been special for Real Madrid and we're going to try and do a good job again this year," said Ramos.