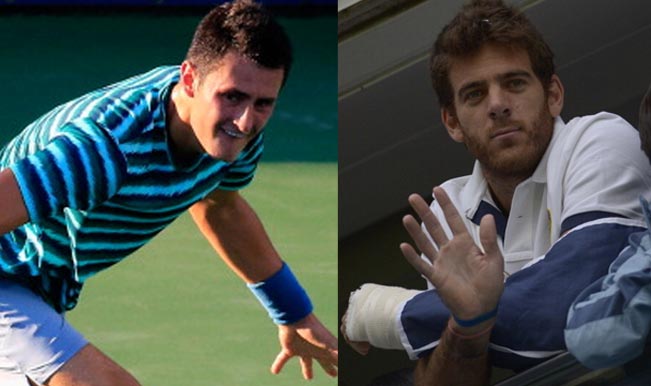 Former champion Juan Martin del Potro will miss the US Open as he continues to recover from wrist surgery, the ATP tweeted Friday. Del Potro's absence from the final Grand Slam of the year is not a surprise. The Argentinian battled pain in his let wrist that first flared up at the Australian Open in January.
He retired from his opening match in Dubai in February and then withdrew from tournaments in Indian Wells and Miami, undergoing surgery in late March. He has not played since. Del Potro underwent an operation on his right wrist after winning the US Open in 2009 and missed much of the next season.
Wayward Australian star Bernard Tomic has received a wildcard into this month's US Open after missing out on direct entry into the men's draw, Tennis Australia said Thursday. Tomic, 21, dropped out of the top 100 for the first time in three years following his second round exit at Wimbledon in June. But he won the ATP Tour final in Colombia in July where he defeated Croatia's Ivo Karlovic.
That victory bumped him to a current world ranking of 70. "I'm really happy with my tennis at the moment, and to be back in the top 100," Tomic said in a TA statement. "It's great to have the US Open wildcard and I'd like to thank Tennis Australia for the opportunity. It means I can now focus on my preparation and be in the best position to make the most of my chances."
Tomic has had a troubled year since withdrawing in the first round of the Australian Open against Rafael Nadal through injury in January. He underwent double hip surgery shortly afterwards and then suffered a record 26-minute defeat on his comeback event at Miami.
Last year, his father John was banned from attending the French Open, even as a paying spectator, after he was charged with assaulting his son's hitting partner, Frenchman Thomas Drouet in Madrid. In July global management company IMG said it had split with Tomic, reportedly amid concerns over his off-court behaviour.