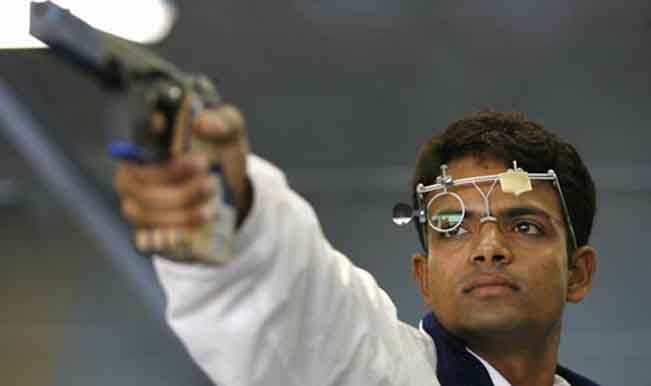 Vijay Kumar, who was India's flag bearer in the 20th Commonwealth Games in Glasgow has let the nation down and made a shock exit in men's shooting 25m rapid fire pistol event. Vijay shot a total of 555 points and finished at 7th position in the qualifying round to miss out on the place for the final round. The country was expecting nothing but a gold medal from Vijay in his pet event but it seems the expectations got better of the sport shooter. There was however some consolation for India in this event as Harpreet Singh won a silver medal.
Let's have a look at the 6 reasons why the country is shocked by the ace shooter's exit –
Commonwealth Games – Vijay had won a gold medal in men's shooting in 25m rapid fire pistol singles event both in Delhi as well as MelbourneCWG. His exit from his pet event therefore comes as a shock to even his worst detractors.He had won 3 gold and 1 silver medal 4 years back and 2 gold medals in Commonwealth games 8 years back.
Olympics – Vijay came to 2014 games in Glasgow on back of his silver winning performance in 2012 London Olympics. He won a silver medal in men's shooting in 25m rapid fire pistol event.
ISSF World Shooting Championship–He won a silver medal each in men's shooting 25m Rapid Fire Pistol event in 2009 ISSF World Cup in Beijing and 2011 Fort Benning games. He has been a consistent performer in this category across the tournaments.
Asian Games – The 28 year old sport shooter did the country proud by winning Bronze medal in 2006 Doha Asian games in 25m rapid fire pistol event. He repeated his bronze winning medal performance again in 2010 Guangzhou games.
Awards – For his consistent topnotch performance across the globe, Vijay has been conferred with Arjuna Award in 2007, Rajiv Gandhi Khel Ratna Award in the year 2012 and Padma Shri Award in 2013. He was also given cash awards by the governments of Himachal Pradesh and Rajasthan and by Rifle Association of India for winning the Olympic silver medal in 2012.
Olympic Gold Quest–Vijay is supported by Olympic Gold Quest program, commonly known as OGQ. It is a non-profit company which identifies and enables Indian athletes to compete at the highest sporting level. OGQ came out with flying colours in its first test in 2012 London Olympics when 4 out of 6 athletes backed by the organization won medals.