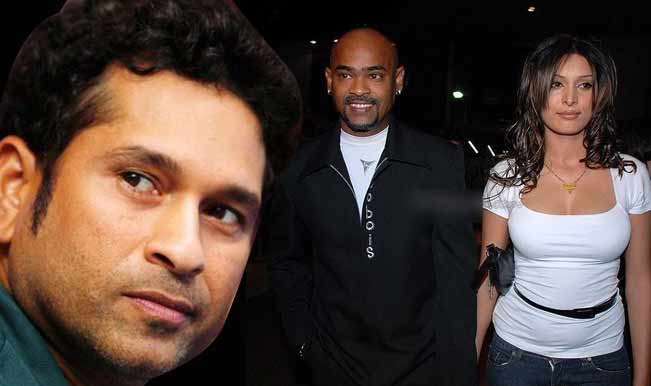 Are Sachin Tendulkar and Vinod Kambli no longer friends? We got hint of all is not well between the two cricketers last year when Kambli took ill and was admitted to hospital after suffering a heart attack and Sachin was not around. This time around when the former Indian Test batsman tied the knot with his wife Andrea Hewitt, it was expected Tendulkar will attend and be present. Instead it was close Bollywood friends of the swashbuckling cricketer who were present at the do.
Kambli who last played cricket in 2000, began a new innings of his life with Hewitt, with whom he has had court marriage few years ago. But the couple went traditional and the former fashion model and cricketer exchanged vows at St Peter's Church in Bandra on Saturday. The couple is blessed with a son, Jesus Christiano, born in 2010.
Kambli and his beautiful wife had all the more reasons to celebrate as the day saw another ceremony – baptism of their son. It was quite a private affair for the couple that saw only their families and few closed friends attendance.
On this special day of Vinod Kambli his friend Sachin Tendulkar's absence raised many eyebrows considering he was in the country. If one would remember, Sachin flew down from UAE to give his vote for the Lok Sabha elections but not making to friends big day was a bit unusual.
The ceremony saw attendance of Vinod Kambli's close friend actor couple Ashutosh Rana and wife Renuka Shahane. Kambli's deicsion to go traditional has also to with his getting more into spiritualism after the health issue in 2013.
We extend best wishes to the re-married couple.