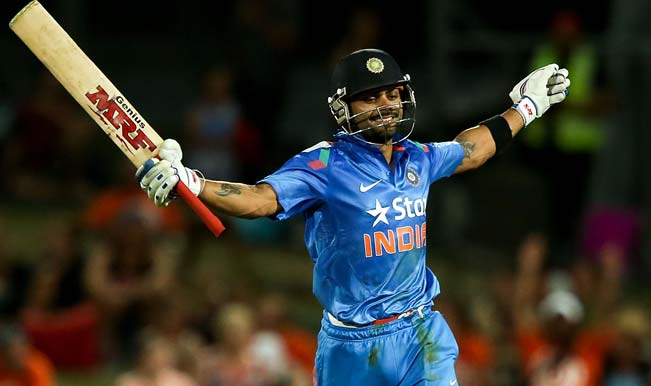 Every now then artistic Virat Kohli dazzles with his bat and routinely flocks India to victory. Kohli has belted oppositions across all the formats and presently is picking his spots in the shorter version of the game. Kohli's basics remain same and with puissance he slays bowlers in T20 as well.
Seven fifties and an average of 43.63 in 26 T20I matches reflect how class apart he has been early in his career. And amazingly 5 out of his seven fifties have come while chasing, this supplements how big match winner the young Virat is. The stats do not end here, Kohli averages gargantuan 82.66 in chases.
Virat has responsibly seen team out of the pressure cooker situations most of the times. His dominance with the bat has been the key feature of India's success story. He finds his feet very early in an innings and within the blink of eye gets set to play like, he has been out there since ages. Remarkable thing about Kohli's batting is that he does not slog and prefers proper cricketing shots. Kohli has a good head on his shoulders, he nudges one's and two's and does not bank on big shots too often, his running between the wickets goes hand in hand with his prodigious batting. In his innings of 72 not out against South Africa Kohli played just three dot balls and throughout Indian chase rotated the strike and converted singles into doubles.
India in this World T20 chased four times and Virat Kohli has consistently stroked his team to victory, thrice with scores of unbeaten 36, 72 and 72. Fittingly Kohli is the highest run getter in this World T20 so far, he has scored 242 runs at an average of 121.00 in five innings.
Virat Kohli is the next big thing in Indian cricket or for that matter of fact in world cricket, who seems to be doing everything right and has already over a short span of time proved to be the most talented and consistent batsman of the current lot. It is high time we celebrate and enjoy his ostentatious stroke making.