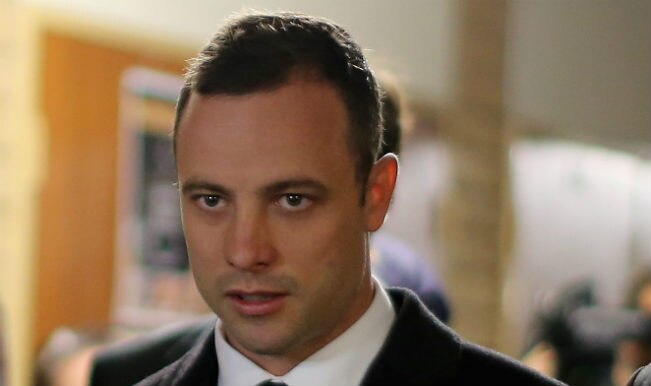 Paralympian Oscar Pistorius facing the trial for the murder charges of his girlfriend and model Reeva Steenkamp entered the fourth week. With each passing day shocking revelations and difficult situations have been arising in the court from the painful post-mortem details of Reeva Steenkamp being read to sobbing Oscar Pistorius.
Today, another round of startling evidences was presented in the court. Emotional text messages exchanged between the paralympian and the law graduate Steenkamp was present in the court which revealed Oscar Pistorius as a 'possessive and jealous' boyfriend.
According to one of the Whatsapp text conversation exchanged on 27th January 2013, the model Reeva Steenkamp had written "I'm scared of you sometimes and how you snap at me." This message reveals Reeva's fear of Oscar and his 'snapping at him'.
In one of the other conversation, Reeva wrote: "I was not flirting with anyone today I feel sick that you suggested that" on the same day, 27th January 2013. This hints not everything was well between the couple who were seen to be much in love. The explanation provided by the slain-ed model suggests Oscar Pistorius to be a jealous boyfriend.
The model and law graduate who was shot dead by Olympic and Paralympic athlete Oscar Pistorius on the Valentine's Day was definitely not in a happy relationship as made to believe by the accused. The messages exchanged weeks before the murder day reveal mounting tensions between the two. The messages show serious allegations from the model of being 'suspected of flirting' by her boyfriend. It showed her fear of always trying to be best for him.
The text conversations also revealed Oscar Pistorius to be a man who seemed to have flying tempers. It revealed that the Pistorius fired gun in the restaurant and asked his friend Darren Fresco to take the blame.
As these text conversations were read in the court, Oscar Pisorius sobbed heavily. It looked an emotional breakdown for the paralympian who claims innocence in Reeva's murder and says to be mistaking Reeva as an intruder. These messages can shatter Oscar's case and be quite damaging for his trial which is already in its fourth week. The court seems to wrap it up by Friday.