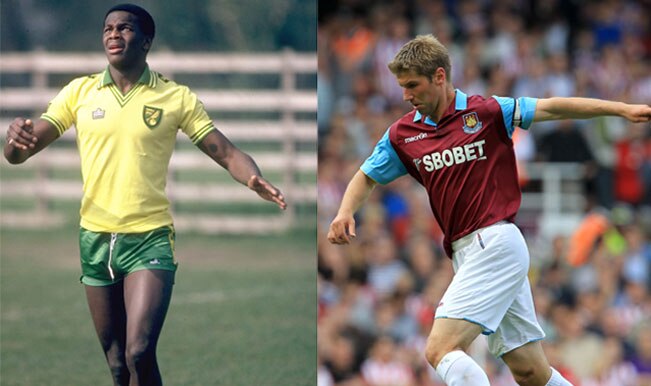 Football may be the most loved sport in the world but it still has a long way to go before it can catch up with the times as far as sexual orientation is concerned. There's not a single openly gay player in any of the major leagues around the world.
Recently, retired German international footballer Thomas Hitzlsperger became the first well-known footballer to admit he was gay. 'I'm making my homosexuality public because I would like to advance the discussion of homosexuality among professional athletes,' Hitzlsperger told Die Zeit in an interview to be published on Thursday. The 31-year-old retired in September 2013 and played 52 times for journey but this means that there still isn't an active footballer who will admit to being gay.
The most famous gay footballer was Justin Fashanu, whose coming out literally destroyed his career. He was disowned by his brother John and as Gay Times summarised it: 'The Sun dragged out the tale with titillating stories of sexual encounters with unnamed MPs, football players and pop stars, which, he claims, were largely untrue. The revelations, nevertheless, earned him a considerable sum of money but he says he was offered even more by others who wanted him to stay in the closet. He admits that he wasn't fully prepared for the backlash that followed and his career in football … has suffered 'heavy damage'. Although he's fully fit, no club has offered him a full-time contract since the story first appeared.'
Fashanu died a tragic death after being accused of sexually assaulting a 17-year-old boy in Maryland, USA and even though the age of consent was 16, homosexuality was illegal in the state back then. Fashanu fled back to England before he could be charged. He committed suicide believing he was going to be extradited back to the US where his homosexuality wouldn't allow a him a fair trial.
Recent comments by Alex, PSG footballer and former Chelsea footballer, shows the degree of homophobia amongst most footballers. Alex said recently in an interview: 'God created Adam and Eve, not Adam and Yves (Adam and Yves here being the French version of Adam and Steve).' That sadly sums up the attitude footballers and most fans will have towards gay people in football.