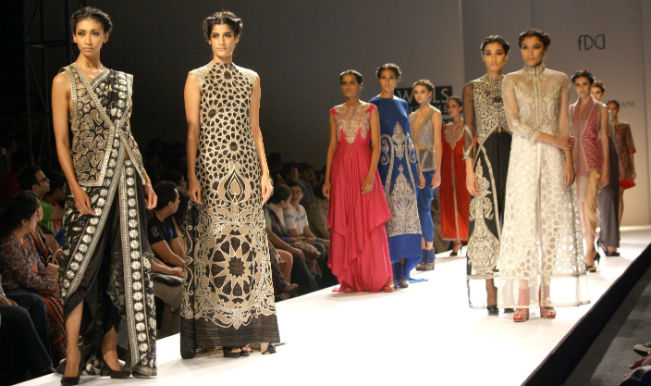 Friday brought us to Day 3 of the ongoing Autumn/Winter edition of Wills India Fashion Week being hosted for the umpteenth time in New Delhi. Whether quality buying happens at WIFW or LFW is a debate for another day, one cannot deny that the scrutiny of the designers who showcase at the prestigious Wills fashion week is quite an elaborate process. Perhaps only the very well established one's make the cut as compared to Lakme Fashion Week where new and emerging talent is given mentoring as well as cushioning.
With designer Pia Pauro, one can always expect eclectic prints presented in a quirky manner. The talented designer paid tribute to Scottish Glam Rock, yes the infamous 70's decadence full of rock, flares and long hair. With that as inspiration, her models were seen in black leggings, slouchy leather ankle boots with gold tags for that element of dressy. Striped kaftans, floral tunics, straight cut modern day lehengas, which were designed minus the flair and ornamentation. Sheer seems to be a hit amongst most designers this season and Pia showcased chic sheer bodices in a series of red lehengas definitely caught our attention. The unique blend of prints inspired by pop and rock music gave us a range of embroideries, stain glass prints in rich fabrics like satin, silk, pure cotton and of course sheer.
What do you make of someone who is Indian with a western or rather European sense of aesthetic? That's Gaurav Jai Gupta- his entire collection for this season particularly had the European casual chic vibe. With relaxed silhouettes and easy wear dresses increasing in popularity in London and Paris particularly, the cool and dressed down vibe is rather making a strong appearance. We are relieved since we can breathe out of those bodycons! The designer with his rich and glazed fabrics showcased knee-length dresses, maxis, midis, umbrella skirts as well as trousers smartly teamed with jersey tops. Horizontal and vertical stripes paired with muted colours made for a very classy line of garments by the designer. His interplay with dual colours and variation working with different colours or shades of the same palette was a fresh take on under dressing.
Another designer who personally made the cut for us was Archana Rao of 'Frou Frou'. Her inspiration was family and the way one can depict the synchronization of one just by observing the personality as well as choice of clothes. What followed was crisp, straight out of the laundry clothes in the form of fitted dresses, belted skirt-shirts as well as sheer lined dresses cinched at the waist. It looked fresh, everyday, soft and utterly feminine. Seemingly Parisian with subtle colours like baby blue, nudes, peaches, soft pinks and of course whites. Fully functional, versatile and understated we say.
Dev r Nil's collections were quirky, edgy and pushing the boundaries a little. Polka dots, florals in the form of graphic roses, fingerprints and asymmetrical cuts with the choice of accessories made for a very edgy yet wearable collection. Monochromes were dominant in the collection (we weren't surprised) with burst of colours like turquoise blues, cherry reds, grey and canary yellow. We are fans of unfinished prints because of its raw appeal. There was cutwork, applique and trendy layering. Shirt and coatdresses, leather tops along with pant suits made for a trendy eveningwear collection. The softness of chiffon brought out the textures of other paired fabrics like georgette and leather very well. Indian contemporary meets modern day global spirit? You bet.
We have seen designer Payal Pratap Singh reinvent herself like no other in terms of her design sensibility. She continued to do so yet again with her A/W 2014 collection, which borrowed from Japanese culture. Apart from the obvious silk kimonos, floral as well as monochrome prints there was thread embroidery, vibrant clogs inspired by Japan in multi-layering and contrasting colour scheme. Jewel tones, black and white as well as gold were seen on fabrics felts, satins, silk and rich velvet. The attention to detail in the form of embroidery at the turn-up kimono sleeve, hair in top knot, Himo belts and Obi sashes made for a collection with a distinctive voice that stood on its own.
Ever since Masaba Gupta has been synonymous with Satya Paul, we have awaited every collection and this one was no different. We knew it was going to be two things- vivid colours and clashing prints.  Her inspiration was 'Icarus', silhouettes every woman should crave for in her wardrobe. Everything from jumpers, capes, woolen skirts to shift dresses and sarees were seen. However, we were slightly disappointed when we saw the same old colour blocking on the ramp, which is the designer's signature style. Not to say that we aren't fans of colour blocking but we believe this trend has run its claim to fame and is done and over with at the moment. The combination of polo neck full-sleeve blouse and sarees was one of the big trends in terms of Indian wear, we thought.
The last show of the day was of that of designer duo Abraham & Thakore, which was sponsored by Twinings. Their collection was based on the urban shikar, where the streets of a city are the terrain, a smartphone that acts as a defense. Their choice of colour palette was beige along with black and white. The versatility that the duo represented with their innovative Khadi fabric handling was remarkable. From safari to uniform and combat suits, they styled it with crisp white shirts and waist belts along with tunics. However, the one combination that we loved the most was the use of khadi jackets thrown over raw silk sarees giving it a structure of its own. The shirt blouse that resembled a dual tone black and white saree was another classic.
Overall, the collections were good with distinct elements and signature styles of their own. However, it was Abraham & Thakore with their 'Urban Shikar' who got our winning votes of the day with a collection that spelt oodles of classic chic with its sleek uniform dressing. However, we have one favourite outfit from each show for every occasion possible. Time to smooth swipe that credit card, we think!