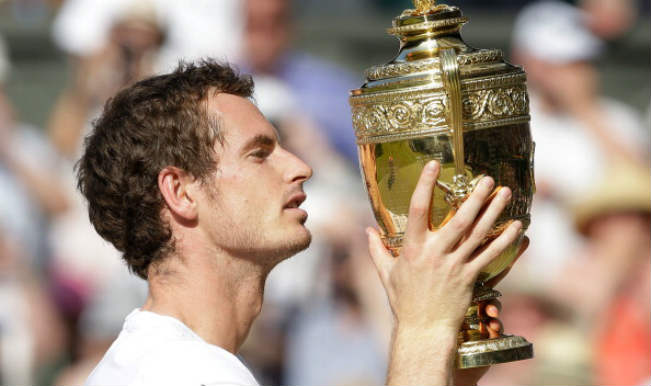 The prestigious Wimbledon starts in couple of days and Tennis fraternity is all geared up for the Grand Slam tournament.In build up to the 2014 championship we take a look back at last five Men's singles championships, so let's play
2013 Winner: Andy Murray
2013 final of Men's singles event saw Andy Murray and Novak Djokovic square off against each other in a Grand Slam final for the fourth time. Murray dominated the first set, recovered from last two sets to win6-4 7-5 6-4 and take home his first Wimbledon title.It was a famous win as Murray became the first British man in 77 years to win the Wimbledon.It was Murray's second Grand Slam title after the US Open 2012.
2012 Winner: Roger Federer
In 2012 final Roger Federer the then six-time champion was up against Andy Murray to seek his seventh title. It was the third Grand Slam final between the two players which Federer went on to win 4-6 7-5 6-3 6-4 after Murray had claimed the first set.The Swiss then lifted his record seventeenth Grand Slam title overall.
2011 Winner: Novak Djokovic
Novak Djokovic defeated defending champion Rafael Nadal in 2011 to win his first Wimbledon title. Djokovic, the Joker finished the game6-4 6-1 1-6 6-3 to end Nadal's supremacy and became the first Serbian man to win Wimbledon. It was his third Grand Slam title after two Australian Open victories.
2010 Winner: Rafael Nadal
Rafael Nadal dispatched Tomas Berdych in straight sets 6-3 7-5 6-4in 2010 final to lift his second Wimbledon trophy and eighth Grand Slam.The Spaniard had first won in 2008 with a five-set victory over Roger Federer. Berdych who en route to final had astounded Roger Federer and Novak Djokovic failed to put up a fight against Rafa.
2009 Winner: Roger Federer
2009 witnessed the longest ever men's singles final at the All England Club when Roger Federer defeated Andy Roddick in marathon five sets  5-7, 7-6, 7-6, 3-6, 16-14. The match lasted for 4 hours and 16 minutes with Federer winning his 15th Major surpassing Pete Sampras's record of 14 titles. It was Federer's sixth Wimbledon championship.